Mama and I are heading off to Washington, DC this morning. I have to be there for a privacy conference that starts on Wednesday, so we decided to head there early and be tourists in the District. We didn't realize that we were heading there on Easter weekend, which may mean that a lot of things will be closed on Sunday, but oh well. We'll see whatever we can, I guess. I will post photos of our travels upon our return.
Mama and I were walking past a couple of homeless guys today and they approached us excitedly and asked us to clarify a debate they were having. Since this was a welcome change to being harassed for money, we both agreed. They surprisingly had an American history question: Which country burned down the White House during the War of 1812? One homeless guy debated that it was the British, the other that it was the French.
Mama and I both didn't know the answer off the top of our heads, but we suspected it was the Britsh since the French were busy with the Napoleonic Wars in Europe, not in the U.S. In order to settle the debate definitively, I busted out my BlackBerry to get the answer from the Internets. Sure enough, a quick Google search found that it was the British that burned down many public buildings in Washington, DC, including the White House, near the end of the War of 1812.
The homeless exclaimed, "God bless the Internet!" Indeed. All in all, the interaction was quite refreshing and informative for all involved. I really had no idea that the homeless were interested in these types of academic pursuits. So I have to ask, do the homeless in other cities debate politics, science and quantum mechanics? I wonder.
Last night, there was some serious weirdness going on with the Internets. Both me and a co-worker of mine couldn't get to The Daily Nugget, any of my websites, or GoDaddy. We both have Comcast as our ISP. I of course assumed that this was all GoDaddy's fault, since it seemed like a DNS and/or routing issue.
In order to troubleshoot, I tunneled through my work's Internet connection and was able to access The Daily Nugget a few times with intermittent "503 service unavailable" errors. WTF!? This morning I was still getting intermittent 503 errors, but was able to access the GoDaddy.com host administration. I proceeded to refresh my DNS settings by deleting and re-adding a CNAME entry. Sure enough — fixed within minutes. Bastards!
A few minutes later as if almost on cue, I got an email from GoDaddy that says they have just changed the look and feel of their "My Account" area. Apparently, this wreaked havoc with many shared hosting users, as evidenced by webmaster forum rants. The good news is that it is all over and we can return to our regularly scheduled programming.
My apologies if you were unable to access the site and it caused you to lay down in a fetal position and cry uncontrollably while you checked the Internets every 5 minutes to see if it was back up and running. I concede that may have been a little "inconvenient" and you may have lost some sleep last night. Please read the site's terms of service before considering any litigation.
I updated the blog template to have a very simplified html markup and achieve all of the graphic elements using only cascading style sheets and the default movable type style sheet classes. What does this mean in English? The blog is more easily readable using a mobile devices. I got tired of the blog looking like crap on my BlackBerry and having to scroll through all of my tags. Ultimately, the change gives better accessibility for all of the Nug readers!
I caught what I can only describe as an evil stomach virus this weekend that had me within close proximity of a toilet bowl at all times. Everything that I ate on Sunday flew out of me one way or another (and I do mean everything). I was so weak and dehydrated by Sunday night that I passed out from exhaustion. Vomiting is violent, so much so that my diaphragm muscles are in pain like I got punched in the stomach. Today, a couple of people have told me that this "has been going around." Well, thanks for the warning!
I added the AdBrite ad service to my site yesterday and inadvertently turned on inline and full page ads. These obnoxious ads should be gone from the site by mid-day today. The only remaining ads should be the right side skyscraper on the front page and the top banner ads in the archive pages that have been there over the last two years. Sorry about that.
POSITION: Mom, Mama, Mommie, Mother and Dad, Daddy, Pops, Father
SUMMARY: Long term team players needed for challenging permanent work in an often chaotic environment providing leadership and mentorship opportunities to young workers. Candidates must possess excellent communication and organizational skills and be willing to work variable hours, which will include evenings and weekends and frequent 24 hour shifts on call. Some overnight travel required, including trips to primitive camping sites on rainy weekends and endless sports tournaments in far away cities. Travel expenses not reimbursed. Extensive courier service duties also required.
RESPONSIBILITIES: For the rest of your life. Must be willing to be hated, at least temporarily, until young workers receive $5. Must be willing to bite tongue repeatedly. Also, must possess the physical stamina of a pack mule and be able to go from 0 to 60 mph in three seconds flat in case, this time, the screams from the backyard are not young workers just crying wolf.
Must be willing to face stimulating technical challenges, such as small gadget repair, mysteriously sluggish toilets and stuck zippers. Must screen phone calls, maintain calendars and coordinate production of multiple homework projects.
Must have ability to plan and organize social gatherings for young workers and clients of all ages and mental outlooks. Must be willing to be indispensable every minute, from one embarrassment to the next. Must handle assembly and product safety testing of a half million cheap, plastic toys and battery operated devices. Must always hope for the best but be prepared for the worst. Must assume final, complete accountability for the quality of ALL produced work product.
Responsibilities also include floor maintenance and janitorial work throughout the living facility.
POSSIBILITY FOR ADVANCEMENT AND PROMOTION: None. You will remain in the same position for decades, without complaining, constantly retraining and updating your skills, so that those in your charge can ultimately surpass your own skills and earn more than you.
PREVIOUS EXPERIENCE: None required, unfortunately. On-the-job training is offered however on a continually exhausting basis.
WAGES AND COMPENSATION: No pay! This is a reverse-salary position in which you pay the young workers and offer them frequent raises and bonuses throughout your career. A balloon payment is due when they turn 18 because of the assumption that college will help young workers become financially independent. When you die, you give them all of your assets. The oddest thing about this reverse-salary scheme is that you actually enjoy it and wish you could only do more.
BENEFITS: No health insurance, dental insurance, pension, tuition reimbursement, paid holidays, or stock options are offered. However, this job supplies limitless opportunities for personal growth and free hugs for life if you play your cards right.
SPECIAL NOTE: You cannot decline this position, ever, and there is no retirement! Good luck!
I know it's raining right now, but I have to tell everyone about the best auto wash and detail in the city, Magic Auto Detail. I took the Audi there on Saturday and had Steve do the Basic Detail for $65, which includes an express hand wax and armor all in all the places that need it. Wow! This guy even got a brush and got old wax residue out of tiny nooks and crannies that I didn't even know existed. I had to give Steve a $15 tip because I felt bad that he spent a full two hours detailing my car. The car is so shiny that one of my neighbors asked where I had it washed. The car is now in my garage waiting for a sunny day. If you live or work in the city this is the best place, period.
Six years after the iMind saga and I am *still* getting ex-iMinder fan mail. Crazy.
Earlier this month, some poor mofo in Calgary thought that his $10 per month "unlimited mobile web browsing plan" included tethered connections to his computer. So after some regular usage, which probably included downloading a couple of high-def movies, he got slapped with a beefy $85,000 bill. Luckily, the phone company wasn't completely heartless and lowered his charges to about $3,300. Holy crap! My heart starts fluttering every time my bill gets to $200. I can only imagine the look on this guy's face when he opened the bill and saw the amount.
Okay, after nearly a month off I have decided to start blogging again. I was a little burnt out at work and needed to take a break from everything, including the Nug. Needless to say, the last three weeks without turning on my laptop have been fantastic and something that I really needed. Also, I finally caught up with all the Amazing Race 12 episodes I had on the TiVo, but will not be writing recaps for each one. I am pretty much done with that since it takes so much time to watch and type out each episode. I'll say one last thing, The Goths totally won me over and I was sad to see them go in last week's episode. For recaps of AR episodes, please read Reality Blurred's Amazing Race pages. They are witty and well written and I am sure you'll enjoy them.
Happy New Year to all of our family, friends and Nug readers. I hope that this year is filled with success, happiness and joy for all of you. What I am looking forward to the most this year are the Toyota Grand Prix of Long Beach, participating in the racing league at Go Kart Racer, and celebrating New Year's 2009 in Puerto Rico with my family. I hope that this is an amazing year for all!
I am taking some serious time off from work this year for the holidays. I will be off from now until January 7, 2008. A full month! Mama and I will be visiting our friends Larry and Tina in Kona, Hawaii, for a week of scuba diving and fun. But then, sadly, I have to come back the following week for jury duty. Chances are I won't get picked and will be chillin' at home relaxing that week, but you never know. The rest of the time is completely up in the air. Totally unscripted. You know, it's my way of supporting the writer's strike. One thing is certain, we will be spending time with family and friends.
The earthquake last night was one of those rolling quakes that seemed to go on forever. And by forever I mean at least 30 or 40 seconds, which is an eternity when everything around is shaking. Right after the quake all of the neighbors talked about it in the hall and discussed the intensity. One said 4.2, another said 4.6, another said 4.0. I confidently said that the quake was a 5.6 about 50 miles from here. Ha, ha, I guess I am a human seismograph bitches! I've been through enough to know.
Sadly, my jury duty was deferred until 12/17, right in the middle of my vacation. Great!
Welcome to hell. I am supposed to be in Jury Duty all of this week. This means that every evening I need to check the SFGov Jury Duty website to see if I get selected to go to the courthouse, stand in line, get called, stand in line, go inside the courtroom, stand in line, and if I am really, really unlucky, to get picked to be on a jury. Oh, it's a *duty* alright. It's like a perverse reverse lottery in which you are lucky NOT to get chosen. I have a bunch of work to do this week and if I get chosen for anything it's going to really, really suck. Wish me luck.
If you thought that working on a report for school was bad, you should try and complete a SAS 70 report for a large financial services company as part of your job. It's much much worse, really! It's days like this that make me want to lay in bed in a fetal position. Serious beatdown.
The BlackBerry Pearl 8100's camera is only 1.3 megapixels, but the picture quality is comparable to digital cameras from about 5 years ago. I would say that the picture quality is as good as my first digital camera, which was a 2 megapixel Canon. The advancements in the minituarization of CMOS sensor technology over the last several years is finally yielding camera phones which contain pretty good fully automatic cameras. I would expect that one day the line between a phone and a camera will be blurred so much that people won't say, "Oh, I took that with my phone" as they do now. But hey, I took this with my phone. The moblog just got a whole lot better.
I have had a Palm Treo 650 for the last two years and it has served me well. I used it to check work email, keep contacts, check my calendar. Basically, I used it for all of the Outlook functions without having to turn on my computer, which isn't very practical just to check my availability for an appointment. The Treo was a big clunky device that had poor sound quality, low battery life, and a small screen with a weak backlight. It was so poor as a phone that I still carried a Motorla Razr as my phone.
About three days ago, I upgraded to the BlackBerry Pearl 8100 and the device is nothing short of amazing. It is small sleek, has a great high contrast color screen, good sound quality, amazing battery life, and even great native third-party apps, like a GoogleTalk and Gmail client. Best of all, the built-in camera is 1.3 megapixels and has great image quality. With all of these features built-in I am going to get rid of my Razr and carry just one device from now on.
After two years I saw the Treo as a necessary tool that I simply tolerated. After only a few days with the Pearl I can honestly say that I love it. I understand the strong emotional attachment that a lot of people have for their BlackBerries and understand the term CrackBerry intimately. I can't put this damn thing down!
Mama and I returned home on Monday night and have been suffering a work beatdown ever since. A four day week just means that you have to cram a week's worth of work into four days. It's been pretty crappy for both of us. Hopefully I'll have some time this weekend to post the photos from our trip to Oregon.
Mama and I are heading off to Ashland, Oregon to visit my friend Mark Asher who lives there. While there we hope to partake in some Shakespeare Festival plays as well as do some white water rafting. Here's wishing all of the Nug readers a fun and safe Labor Day weekend. Adios.
Castello di Amorosa winery is a recreation of a medieval castle that sits a few miles south of Calistoga. The walls and ceiling of the castle contain bricks hundreds of years old, over 850,000 of them all imported from Europe. Where stone was used it was hand-carved by stonecutters following traditional methods, which could mean spending an hour and a half on one stone. Amazing! We haven't been there, but after seeing this story we definitely have to visit.
Audi USA is putting together an event called the Audi Driving Experience that will feature Audi production vehicles on a race track and professional driving instruction. The event will be in San Francisco on September 12th through 16th, November 27th through 30th, and December 1st through 3rd. The best part is that it will be held at Infineon Raceway and for a lucky few, or those willing to pay extra, will include a lap on the track in the Audi R8 sportscar, pictured above. Needless to say, I am already registered for a session on November 28th.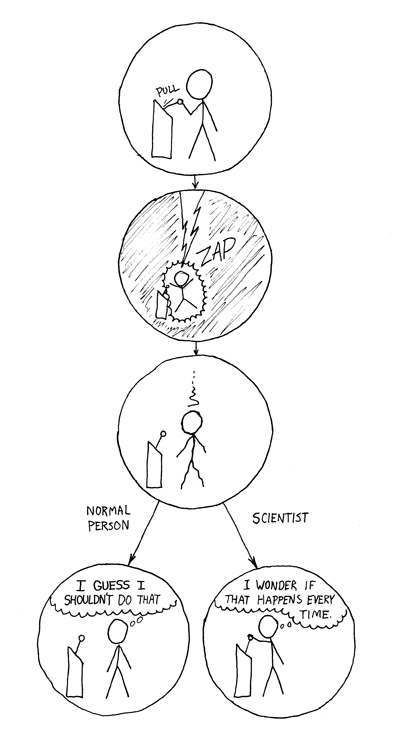 This explains why I was different than the other kids, and always injured.
Mama and I just got tickets to see the IndyCar series Motorola Indy 300 at Infineon Raceway in Sonoma on August 26th. When I was younger I wasn't a big racing fan even though I lived in Long Beach, the home of the CART (now Champ Car) series Toyota Grand Prix. Sadly, I never went to see the Toyota Grand Prix live, so I am going to make up for it by going to see this Indy race in Sonoma. Well, I also have to admit that I am a huge Danica Patrick fan.
I flew into Orlando today for the ALPFA National Convention and will be here until late Tuesday. The flight here really sucked because there was a kid two rows behind me that decided to turn into Linda Blair and scream at the top of her lungs for most of the flight. Let's hope that's not an omen for the rest of my time here.
I never thought that my first dent would happen while I was completely stopped. Today, I came to a complete stop on Kearny Street at Bush Street waiting for the light when I hear a loud thud of something hitting my car. I look in my rear view mirror and don't see a car, so I immediately look over my right shoulder to see several bystanders helping a bike messenger up from the floor to the right of my car.
This guy hit my car so hard that we was visibly shaken. I had time to pull over to the right of the road and park the car with the hazards on and he still wasn't up. When he finally stood up, he didn't even remember hitting my car. A lady that saw the whole thing said that he started swerving before he hit the car and that it looked like he was passing out before he hit me.
So after the guy is up he's like thanks for getting me up and helping me and he was you know, saying goodbyes as if he was getting ready to leave. So I said, "you are not getting on that bike without me knocking you off of it, so I suggest you don't do it." He just looked at me a little goofy and I realized he was still a little out of it so I cut him a break. I had to explain "you passed out on your bike, fell over, and hit my car leaving a pretty big dent and scratch. I need your driver's license."
He said he didn't have one but he had a California ID. Not a good sign, but okay. I asked him who he worked for and he gave me a form with the name of his company on it. He gave me his cell number, which I called in his presence to make sure it rang. I asked him point blank if he was drunk, or high. He seemed insulted, like he almost didn't know he was a bike messenger and they are all a bunch of druggie losers. Duh!? For the most part this guy was on the up and up.
I asked him if he had a second form of ID and he claimed he didn't have one. At this point I was pissed because I saw a Visa logo as he flipped through his wallet for his ID. I told him I had seen the Visa logo and that he better hand it over before I took it from him. Apparently, I must have been pretty angry, because he handed me his whole wallet. At that point I took the form he gave me and wrote down all his info. Including the card number, expiration, and CVV code. Technically, I could fix my car with his card!
But, that wouldn't be right, or fair. I don't know why he hit my car, but my guess is he passed out from dehydration or exhaustion. I am going to try and call the company he works for to see if their insurance will cover it. Otherwise, my new best friend will pay. Oh, and he will pay. At this point, I know where he lives, where he works, and have enough information to open my own credit in his name.
Still I was lucky. Most people hit by bike messengers get their cars scratched and dented and the guy just keeps riding away never to be seen again. I guess I was lucky he was sort of knocked out and confused after he hit me or this could have been a different story. The good news is these guys are crazy skinny and easily intimidated by a pissed off 190-pound Puerto Rican. Now, just wish me luck in the "getting someone to pay for my car" saga.
Today I went GoKart racing for the second time in three days (I went on Friday as well) and I have to say it fucking rocks! You feel like you are going super fast because you are like half inch off the ground and taking crazy g's on the turns. The only draw back is that you get used to the speed of the GoKart and drive home at 100mph, in your 'real' car, from the track. This isn't such a good idea on the 101 north between Brisbane and Candlestick, which is a popular speed trap. Anyway, check it out and go if you get the chance. It's awesome!
A 4.2 magnitude earthquake rocked Oakland and San Francisco and woke Mama and I up this morning at around 4:40am. I was surprised to learn after I woke up that it was only a 4.2 magnitude earthquake, because it felt almost as strong as the Northridge quake felt from Redondo Beach, which was a 6.7 magnitude quake at a distance of 50 miles. If I had to guess I would have said it was a 5.5 magnitude quake within 10 miles away.
The epicenter of the quake was reported as 2 miles east of Oakland, about 6 miles from our place in downtown San Francisco. According to NPR this morning, the quake was considered a shallow quake because it occurred at a depth of 3 miles below the earth. On the average, California earthquakes have hypocentral depths of about 6 miles. The Northridge earthquake had a hypocentral depth of 11 miles, deep for a California earthquake, but considered shallow compared to other regions.
For the record, Mama went back to sleep right away and I couldn't go back to sleep for almost an hour. I kept thinking about whether the earthquake was a pre-shock to a larger quake or if there would be aftershocks to the quake. Eventually though, I managed to go back to sleep. The interrupted sleep has made me tired this morning.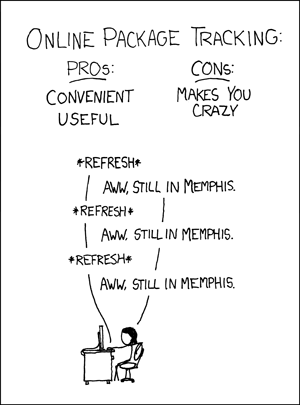 Damn you Vita-Mix. Why must we suffer so?
So today I bumped my knee on the furniture and felt a sharp pain. I inspected my knee and saw what looked like a pimple or infected hair follicle. I scratched at it and wouldn't you know it–a rose thorn from when I fell into a rose bush more than three weeks ago popped out of there. Gross right!? And pretty surprising, since I thought I had gotten all of the rose bush out of me that day.
My blogs have gotten 20 legitimate trackback pings in over five years and about 60,000 (no joke, maybe more) spam trackbacks in about the same time. I think it is safe to say that the signal to noise ratio doesn't warrant the CPU time that I am investing in filtering out the spam trackbacks. So until there is a better technological solution the trackbacks are turned off. You hear that you spammer bastards!?
Last weekend, we went to Las Vegas to attend my cousin's wedding. This week another one of my cousins has been in town visiting from Boston. I have finally uploaded all of the photos up onto Flickr for all to see. Be sure to check out the new photo sets when you have some time. Enjoy.
This was the view from where we watched the fireworks show over San Francisco's Aquatic Park. We were standing on the hill on Hyde Street just North of Chestnut Street. From that vantage point you could see the fireworks clearly over the water. Kickass show! I will be uploading the rest of the photos in the next couple of days.
I want to wish a Happy 4th of July to all readers of The Nug! Mama and I will be walking down to The Wharf with my cousin Elcira this evening to check out the fireworks show. If tonight is like last night, it will be a crystal clear and perfect for watching fireworks.
Mama and I are back from Vegas, we got in late last night. Today, we'll be picking up my cousin Elcira from the airport and will be showing her the city all week. We don't get to do the tourist thing very often so we're looking forward to showing her the sights. The best part of all is that I am off from work all week long!
Mama and I are heading to Las Vegas to attend my cousin's wedding. We'll be leaving at the crack of dawn tomorrow morning for the airport to make a 7am flight and will be returning late on Sunday night. We didn't want to upset the Vegas gambling gods by overstaying our welcome. We definitely go by the three day max rule–it's best for all involved. We'll be seeing Adolfo & Wanda on this trip as well so we're really excited. Wish us luck.
Earlier today, I was at a work function at the home of the Office Managing Partner. A group of us decide to play a friendly game of volleyball in the back yard. Everything was going fine until the competitive juices started flowing. My teammate hits the ball over a few bushes and I made a play for the ball, missed, and fell hands first into a bush, a goddamn rose bush!
My hands were pretty cut up by rose thorns and I bled profusely for a good twenty minutes. I even managed to scratch up my right knee and thigh. The moral of the story: let the ball go out of bounds you idiot! Really, was it worth risking life and limb while chasing a volleyball. At a work event no less. Now I have the distinction of being the only person that bled during the festivities. Nice!
My friend Michael Dobrich has won $9,257 thus far by cashing in two separate WSOP events this year. He is now contemplating whether to apply his winnings towards a seat at the $10,000 buy-in Main Event to be held July 6th through July 17th. All I know is that if he does play the Main Event and gets "in the money" I am flying to Vegas to cheer him on. Good luck Mike!
The Daily Nugget is crippled because I started fooling around with the Movable Type 4 Beta without backing up my SQL database first. The website is a little screwed up right now and will remain this way for the next couple of months until MT4 becomes stable.
I will be heading off to McLean, VA this morning on business returning late Thursday night. It's a long way to go for such a short stay, but somebody's gotta do it.
I am in Denver visiting one of my clients and will be returning late Tuesday night.
Here's a link to a Popular Mechanics article that reviews the top 6 personal computers of 1982. On their comparison test were the Apple II, the Atari 800, the original IBM PC, the Commodore PET 2001, the Radio Shack TRS80 Model III, and the Texas Instruments 99/4A. Most of these machines came with two floppy drives and hard disk drives were sold separately. Personal computers, with a hard drives, had an average cost of $1,900 in 1982. That's almost $4,100 in today's dollars! PCs were so expensive at first that they were out of reach for most of the middle class. To put it in perspective cars were about $10,000 in 1982, so a PC was one fifth the price!
However, kids like me could buy used ones pretty easily a few years after their release, when new models made the older models less desirable. My first personal computer was a modded Atari 1200XL (it had an Atari 800XL OS ROM) that I bought used from a friend of mine, with all his software, back in 1985. He sold it to me because his family had bought an Apple IIC. I don't remember how much I paid for it but it was less than $300 and I was pretty excited about it. Mostly because I could play Karateka and the Zork Trilogy in the comfort of my own room. These early computers were a lot of fun. Via BoingBoing.
Mama and I returned from Vegas late last night and were substantially up for the trip thanks to Mama. While I broke even for the entire weekend, Mama was up enough to cover our accommodations and meals for four days and three nights! She was treating the blackjack tables as her own personal ATM and even hit up the poker room on the last day to come up even further ahead. Kickass!
Mama and I are off to Vegas for the weekend to relax, gamble, and watch a couple of shows. Our friends Santiago and Belinda will meet us there to join in the fun. We have been planning this trip for months and are very excited that the day is finally here. See ya wouldn't wanna be ya!
In reading a recent interview with Quentin Tarentino for his new movie Grindhouse, he refers to the Carson Twin Cinema theatres in Carson as a place he used to watch movies when he was a kid. This sparked a bit of nostalgia in me, as I used to also go to the Carson Twin almost every weekend to watch movies from 1984 to 1986. Granted, this was about eight years or so after Tarantino, but surely the theatre had not changed in that time, it wasn't even remodeled!
My mom used to drop me off at the Carson Twin on her way to the Samerika Bingo parlor that was located just down the street, at Avalon Blvd. and 223rd Street. The theatre was located on Avalon Blvd. at the North end of a dilapidated strip mall called the Scottsdale Shopping Center that was located at the intersection of Scottsdale Drive. The theatre itself was a separate box shaped building adjacent to this sleezy Ranchero Mexican Bar that was located at the end of the strip mall. I remember seeing the scantily clad "bar ladies" getting dropped off in the early evening by their "boyfriends" or pimps, I'm not sure which.
Mama and I are heading up to Tahoe for five days of fun in the snow. I have brand new ski boots and poles that I will use to rent some demo skis while I'm on the mountain. That's right, I am totally done with snowboarding. I just *hate* being stuck in the flats and having to undo my bindings to kick until there's an incline. Oh, how I missed my ski poles. You would think that breaking my wrist was the last straw, but in reality it was the flats that brought me back to skiing.
I remember standing in line to purchase a copy of Windows 95 when it was released at the newly built CompUSA store in Torrance, California. It was a warm August evening and no breeze. There were at least 400 people there lined up to buy only about 300 copies of the new operating system. Excitement was in the air and people couldn't wait to get home to load up their 486DX/25 machines with the new OS. I was up all night installing it.
Most of the people lined up were running DOS 6.22 with Windows 3.11 and were eager for a change. For one, Windows 3.11 did not support TCP/IP built-in. Most people that accessed the Internet had UNIX shell accounts running a program called TIA over dial-up lines using the SLIP protocol. People also used the Mosaic, and later the Netscape browser to access the web, and Eudora for email. My ISP was Netcom, which was acquired by Mindspring, which was eventually acquired by Earthlink.
Windows 95 was a huge leap forward. It had built-in TCP/IP and PPP protocols to access the Internet through dial-up. This eventually meant the end for TIA, as Internet service providers started to provide PPP modem banks that no longer necessitated the use of a shell account. Those were the glory days of personal computing. Windows 95 was a big step forward and was an eagerly anticipated media event.
Contrast this with last night's release of Windows Vista. Although there are big improvements in this new OS, mostly in security and graphics, it's not much better than a well-patched installation of Windows XP Professional. People out there are happy running Windows XP and don't want to learn new menus and graphics. Some may not want to upgrade Windows because they don't want to upgrade their hardware. Either way, people are resistant to change.
Last night, the crowds of people never showed up. Granted, there wasn't a huge marketing blitz featuring the Rolling Stones song "Start Me Up" like the Windows 95 launch. Ultimately, I think Microsoft knew that users would never line up for only a slight improvement, no matter what commercials they ran. Deep inside, Microsoft must know that it has lost its magic and it will never be 1995 again.