The Daily Nugget is officially on hiatus until whenever I get around to it. The site will not go down, but do not expect new posts in the near future. Seriously, I went from writing a daily nugget, to a weekly nugget, to a monthly nugget and now I can't even squeeze out a quarterly nugget. There is just too much going on in my life right now. A 21-month-old at home, taking accounting classes, and studying for the CPA exam have all taken time away from my blogging pastime. I miss it, but I only have time to update Facebook once in a while with baby photos.
I highly recommend the following blogs:
SFist – Local San Francisco news and happenings
CurbedSF – San Francisco real estate
BoingBoing – Techie news for nerds, you know who you are
Gawker – Gossip and news for Manhattan, Silicon Valley (Valleywag) and beyond
Going Concern – Gossip for the accounting industry
Deal Breaker – Gossip for the banking industry
Thank you to all my readers and supporters over the years–your clicking the ads have helped keep the lights on.
In case you haven't already noticed, The Daily Nugget is on hiatus and I haven't posted new entries for the last three months. With a one-year-old baby at home I just have not had enough time to post (see moblog for baby). I hope to update the whole site to include Facebook registration and a few other new features within the next month or so. Once the new features are installed I will resume posting.
President Obama says on being a dad that "all it takes is a few minutes of your time."  WTF!?  Are his kids genetically engineered to sleep and be quiet?  Am I doing something wrong?  I can tell you after being a dad for five weeks that it takes a helluva lot longer than a few minutes.  Try like four to five hours per day.  Uh, that's like 300 minutes each day! *Sigh* I guess all politicians see the world through rose colored glasses.
On Wednesday, I headed to Justin Hermann Plaza to see The Shack's Laptop event. Instead, when I got there I saw a skydiving event (see SFGate story, see my video) that was happening to promote a new T-Mobile's new phone.  You will notice in the still frame below that The Shack's giant laptop was not operational during the skydiving event.  And to tell you the truth, I didn't hang out afterward to see them turn the laptop on.  Looks like The Shack got the shaft!
One of my co-workers, a young woman named Michelle Maykin, was diagnosed with Acute Myeloid Leukemia (AML), a cancer of the blood, on February 27, 2007.  She fought the disease with grace and dignity for over two years, but finally succumbed to the disease this weekend. She was 28 years old.  Sincere condolences go out to her family and her loving husband, Van Le.
She had a personality and a smile that would light up any room and she will be missed by all who were lucky enough to know her.
A funeral service is planned this Saturday in San Jose.
Life is fragile, tell your loved ones you love them at every opportunity.

I just bought a Flip Mino HD digital video camera and I mounted a Sunpak wide angle lens onto it.  The photo above with my house key shows how small the camera is even with the lens attachment.  With the camera and a copy of Adobe Premiere I am ready to make short films of our baby when it arrives next month.  Below is a video shot on a Flip Mino HD with the wide angle conversion by Zack Arias called Edit: Transform.
It's been a little over a week since I found out that my vision had deteriorated from 20/17, or slightly better than normal, to 20/23, a little less than normal.  It had been almost seven years since my last vision test and I went just to make sure my eyes were still awesome.  Well, they are not.  For years I had prided myself in the fact that I had better than average vision even though I work on computer monitors all day.  Even though I knew it would likely happen some day, I was sad.
The eyeglasses prescription that my doctor gave me is -0.75/-1.00 and I was sad. My doctor said that the eyeglasses were "discretionary" and I would only need them when the extra clarity was needed.  He said that playing baseball would be one of the few times I would really need them.  I told him that I would probably only wear them while go-karting or car racing, and he emphasized that I did not need them for everyday driving.  Still, I was sad.
I told my a couple of my co-workers about my new prescription and they laughed hysterically saying, "We can only wish our eyes were *that* good."   They had both worn glasses since they were kids and their eyesight is much worse.  Still, I told them that I considered them "lucky" because they can get Lasik or PRK to correct their eyesight immediately, while my doctor told me that I would not be a candidate for the corrective eye surgery for years to come.  Still, I was sad.
The bottom line:  My doctor and friends say that my eyes are great and by all estimations, I guess they still are.  But the reality of imperfect eyesight has me re-evaluating my life and overall health.  It's funny that with my new "bad" eyesight, the gray hairs on my head seem to be in *much* greater focus.  I guess maturity is really about accepting imperfections in yourself and others.  The sadness will fade.
The Nug is back from a self-imposed impromtu hiatus.  I guess I was in a little funk after the Battlestar Galactica finale.  I really liked the finale but felt pretty sad that it was all over.  Plus, what did it all mean!?  Anyway, I have had a chance to watch the finale a few times off the TiVo and will post some analysis soon.
Earlier today, I took my first exterior moblog photo of the San Francisco skyline from UCSF and was happy to see that it was mapped by Flickr upon receipt (due to the photographs embedded GPS coordinates).  By the way, have I told everyone how much I love my BlackBerry Bold, because I do.  It will be interesting to see what my Flickr map will look like in a couple of months of moblogging with GPS.  Very cool.
There's really nothing I could add to the coverage by CNN, MSNBC, the BBC and other news organizations about this historic day.  Except to say that it was a very emotional moment for me when Obama was sworn in as President.  Sure, we all knew the moment was coming, I for one was looking forward to it for months.  But the moment caught me off guard and I was still filled with emotion.  I wept.  Brown and black kids my age never dreamed of becoming President.
Sure, we were told by teachers that if we worked really hard we could become lawyers or doctors, but nobody believed that being President was even remotely possible.  Well now it is.
It's my birthday today–this is the best one by far.
Mama and I are happy to announce that we are expecting a baby in early July.  This is one of the first photos (well, it's an ultrasound) of the baby taken in December.  We are very excited and cannot wait for the baby to arrive.
We returned from Puerto Rico late on Saturday night to 39F degree weather in San Francisco. Although we miss the 80F degree weather, it is definitely good to be home. It took a while, but I posted the bulk of the photos for everyone to enjoy. Here's a link to the slideshow.
We are off to the airport heading to Puerto Rico through Washington, DC.  Yeah, that's what happens when you book award travel through United.  But hey, the price is right.  Hopefully, we will miss reach PR with little or no delays.  Ahh, almost two weeks of relaxing in the sun sounds awesome.  Happy New Year to all!
Gary Ross (see previous post) was sentenced to 6½ years in prison, a $5,000 fine, and 10 years of supervised release, according to court documents.  Adding insult to injury, his attorneys are resigning.  Likely because Gary no longer has the means to pay them, which means he has little or no chance to appeal.  Don't drop the soap!
While Mama and I were in Los Angeles, we had the opportunity to meet my friend Santiago's new son Elijah at 9 days old.  Congratulations and big ups to Santi and Belinda for making such a cute baby.
Mama and I are heading to Los Angeles for Thanksgiving and will be back on Friday.  Happy Thanksgiving to all!
Mama and I went to Monterey in late September to celebrate our eighth wedding anniversary. While there we checked out Cannery Row, the lighthouse, and the Aquarium. I had completely forgotten that these photos were in the camera.
In converting from Movable Type to Word Press we seem to have lost all of the tags.  We will start tagging posts from this point forward, but there is no way we are going back to tag old posts.  Please use the new and improved search facility on the left to search through posts.
Now that we have a new President Elect, it is time for a new website design for the Daily Nugget.  We are working on that right now and will have it up and running over the next couple of days.
The week before the election, Mama and I had the opportunity to go to a political fundraiser at the Getty mansion in San Francisco's Billionaire's Row. It is the same place where Obama held a fundraiser earlier this year. Our friend, Owen O'Donnell was running for the District 5 seat in the San Francisco Board of Supervisors. He lost to the incumbent, Ross Mirkarimi, but not before having a fund raising event at the home of Gordon and Ann Getty.
It was a surreal experience to say the least. It is actually two lots side-by-side with one huge home on both lots. The place looked like a museum inside and decorated in crazy-rich-people décor, a lot like Hearst Castle. Mostly antiques. As you enter, there is a very long hallway with a large atrium on the left flanked by tall columns. The atrium accommodated almost 100 people within it, as our friend spoke to the crowd using the natural acoustics of the room. Yes, it is all indoors.
Beyond the atrium was a parlor setup with multiple chairs, like a living room. Unlike most living rooms, there were four separate seating areas where guests could partake in four separate discussions. The parlor was large enough to accommodate four groups of 8-10 people. Yes, a couple of the chairs in that room cost more than my condo. And that is not even taking into account the art on the walls, all originals. Crazy.
The three rooms in the house that I saw had priceless antiques, art that museum curators would kill for, hand-painted panels, and antique rugs. Keep in mind that this is the part of the main house that is used for entertaining, not where they live. So, in a sense, we got a good idea of how billionaires entertain, but not how billionaires live, since the living area was closed off to guests.
By the way, I didn't take any photos during the event. I don't know if it was allowed.  All I know is that nobody was taking them and I forgot my camera.  The photo above is from the Ann Getty House website. Ann Getty sells her furniture and interior design by photographing them in the entertainment area of her home. I do not know that I will ever get a chance to attend an event there, but it certainly felt like a once in a lifetime experience.
I want to congratulate Owen O'Donnell for running a good campaign and wish him the best of luck should he decide to run again in 2012.
Now that I have had some time to decompress, I realize that the election was stressing me out a little. I was burned out. This election gave voters a lot more information to process: press releases from both campaigns multiple times per day, the 24 hour news cycle with all the talking heads, voter information mailed to homes, political blogs, and traditional newspapers, just to name a few. Add to that the fact that most of America believed that this was the most important election of their lifetimes and you can see how people were a little stressed.
I took some time off from the blog from about a week before the election until now. I have been working on a major project from work, but that is not the reason I stopped blogging. I stopped for a while because I was burned out from the election, pure and simple. Now that my candidate has won the White House I can go back to putting my thoughts on paper and enjoying reading the news again. Hope and change has won over the fear mongers and the afraid.
My only disappointment from the election is that Prop. 8 passed in California. I still don't understand what the fear of same-sex couples is all about, and why same-sex marriage is considered a "religious issue" instead of a "human rights issue" by so many. Let's keep on hoping for change.
Mama and I returned from Vegas last night and have been recharging all day today. Something about being in Vegas really tires you out I guess. It must be the adrenalin from the gambling that makes you want to sleep when you get back. We are glad to be home.
Mama and I are heading to Las Vegas where I will be attending the ALPFA Leadership Summit. I am sure that the conference will not be as exciting as the poker that will be played throughout the night. We will be back on Saturday night.
I worked this guy, Gary Ross, that was convicted a few months ago of attempting to persuade a minor to engage in sexual activity (see FBI press release). Thankfully, he was no longer employed by our firm at the time of his arrest. However, according to the press release, he was caught by an undercover officer just like in Dateline's "To Catch a Predator" series but without the cameras.
Even more shocking is that he was found with a "Plan B" file on his computer that detailed his plan to flee the United States and assume a fake identity. I can attest that this guy seemed completely "normal." He definitely didn't look like an online predator. After hearing about the case I searched the court database online and have to say that the evidence against him was overwhelming. He definitely deserved to go down.
He will be sentenced on October 21st to a minimum of 5 years in prison. It just goes to show that you never really know some people even though you see them at work almost every day. Sick bastard.
A man was arrested in West Virginia for DUI and charged with assault for "farting in the officer's general direction."  According to the police report, this guy allegedly "lifted his leg and passed gas loudly" on said cop and "then fanned the air with his hand in front of his rear onto the cop."  Who knew that cops in West Virginia were so sensitive!?  The complaint filed by the cop goes on to say, "The gas was very odorous and created contact of an insulting or provoking nature."
Created contact!  Now that's a fart ladies and gentlemen!  Bravo!  Bravo!!!
Wow, this cop is lucky he didn't go camping us back in high school.  It's one thing to get a whiff of a really good one out in the open, but to be enclosed in a tent with the fart, that's special.  I have some high school friends that were scarred for life.  I am sure they remember, unless they were so traumatized that they blocked the memory.  You know who you are.
P.S. Thanks for not pressing assault charges against me guys, jeez!
Disney thinks it's cool to have cartoon music everywhere on its property, for no apparent rational reason. Even in my room I can hear it echoing in the distance (it's 9:23pm now). Creepy. Then there are cartoons playing in monitors all over the place, including the lobby of my hotel, and kids are totally motionless while staring at them. Again, creepy. It's like they are peddling addictive porn for kids. I really can't wait to leave on a plane tomorrow morning.
I am off to Orlando to attend a Privacy industry conference, returning Thursday.
Mama and I are back from our camping trip in Clear Lake. There was a Kiss concert and a motorcycle rally at nearby Konocti Harbor Resort. We didn't even know that the place existed so we were surprised to see how many big name musical acts have played there over the years even though it is essentially in the middle of nowhere. It has hosted many of the same acts that have played the Concord Pavillion or even the Shoreline Amphitheater over the years: Bob Dylan, Steely Dan, Goo Goo Dolls, Loretta Lynn, Mama Etheridge, Kenny Chesney, Third Eye Blind, Toby Keith, Chris Isaak, B.B. King, Poison, Motley Crue, and Jeff Beck.
We could hear the fireworks from the concert echoing over the lake from our tent. It didn't really feel like we were in the wilderness camping with fireworks booming in the distance. Next time we go camping there we will make sure to check the concert schedule at Konocti before we go. That way we will be able to go to the concert or avoid it as needed.
Mama and I have not been camping in about 5 years. Well, we are heading off to Clear Lake, CA today for a day of hiking, scrabble, and sitting around a campfire. We didn't book far enough ahead and were able to get a campsite for only one night, but I think that's all we need after not camping for so long. Maybe we'll be able to get our act together to camp in Yosemite this fall before it gets too cold.
Our friends Maria and Francois just gave birth to a son, Dylan Pascal. Dylan was born at 36 weeks and weighs just shy of 5 pounds. Both mother and baby are doing well.
Big ups to Maria and Francois!
Actually, I have been back from Houston since Friday, but it has taken me this long to recover. The diversity conference was great, but I was stuck at the Houston airport for five hours on my way back to San Francisco because of hurricane Dolly. Dolly struck Texas at Brownsville, which is a couple of hundred miles away, but the rain and thunderstorms wreaked havoc at Houston airport nonetheless.
If I never go to Houston again that would be fine by me. The place is completely flat, humid as hell, the architecture is uninteresting, and the urban landscape looks completely depressed except for the Galleria section and downtown. In short, if you do not have any business in Houston, you probably are not missing much. I bet that Dallas, Austin, and San Antonio are all way cooler.
Well, I have been to Dallas and can vouch for its coolness. I am only assuming that San Antonio and Austin are cooler than Houston.
I am heading off to Houston this morning to attend my firm's annual Diversity Summit. I am part of the Hispanic Latino Network Advisory Board and will be there to discuss our network's progress with the other diversity networks and with our Chairman and CEO. I will be back to the office on Friday.
Owen and I rode 19 miles today on the mountain bikes. We crossed the Golden Gate Bridge but chickened out on climbing to the top of Hawk Hill after climbing up to the bridge approach from Baker Beach. Next week will be our first attempt at Hawk Hill after nearly 3 years of not doing that ride.
I want to be able to film HD home movies and play them on my HDTV right off my server, a Buffalo Terastation, without the use of the camcorder for playback. The technology that would allow this live local network streaming to happen is UPnP. Many devices are just now starting to have this technology built-in, but you can typically hack older devices to become a UPnP compliant server or client.
About a month ago, I hacked my Terastation and installed Twonkyvision software that allows you to stream media (movies, photos, and music) to a UPnP enabled client. The only UPnP client I have is my Xbox 360, which only plays Windows media files and has an awful interface for accessing photos and music. Since I don't plan to hack the Xbox 360, I immediately started researching the possibility of using something else as UPnP client that would play all streamed video formats with ease. Enter Apple TV.
Last week I picked a used 40GB Apple TV on Ebay for $150 plus shipping to see if I could hack it and have it become the new UPnP client on my home network for playback of movies stored on my Terastation. While I still haven't hacked the Apple TV to be a UPnP client for the Terastation, I am very impressed with the default out of the box functionality.
It is 89F degrees in downtown San Francisco with a cool breeze right now. I am heading off to Yerba Buena Gardens to chill out in the sun for a bit before heading home. It's just awesome weather right now.
First-year students in Medical School were receiving their first anatomy class with a real dead human body. They all gathered around the surgery table with the body covered with a white sheet. The professor started the class by telling them, "In medicine, it is necessary to have 2 important qualities as a doctor.
The first is that you not be disgusted by anything involving the human body."
"For example," the professor continued by pulling back the sheet, stuck his finger in the butt of the corpse, withdrew it and stuck his finger in his mouth. "Go ahead and do the same thing," he told his students. The students freaked out, hesitated for several minutes, but eventually took turns sticking a finger in the butt of the dead body and sucking on it.
When everyone had finished, the professor looked at them and told them, "The second most important quality is observation. Please note that I stuck in my middle finger and sucked on my index finger. Now pay attention damn it!"
Big ups to Wanda for sending me this joke via email.
Here we all are at South Point Cliffs on the Big Island a couple of years ago.
Our friends Larry and Tina were here today visiting us from Hawaii. We met up with them and a couple of mutual friends and had a nice dinner and some tasty beverages nearby, including some delicious champagne. We were very happy to see them and wish we could visit Hawaii more often to see them. It's funny, we just saw them and already we miss them.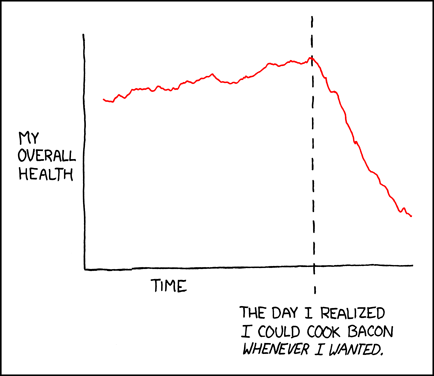 Ah yes, I can almost remember the moment 10 years ago. Via xkcd.
I am beta testing the new version of Movable Type, currently 4.15 Beta 5. As such, if you should happen to see something squirrelly on the site please email me and let me know. Thanks!
Back from Orlando after an exhausting and very hot week of training. No photos, no commentary. Just glad to be back home and enjoying the relatively cool San Francisco weather.
I am heading off to Orlando and will be there until Friday at a firm training event. The training will be held at the Caribe Royale Hotel just outside of Walt Disney World. I am happy not to be in Walt Disney World, since I think some of the coolest things in Orlando are outside of the Magic Kingdom.
View of Midtown Manhattan from my hotel room in HDR.
The Empire State Building from Rockefeller Center in HDR.
I returned from New York yesterday afternoon and had not a chance to post anything on the Nug until just now. I am glad that I finally had the chance to get a bunch of photos out of my camera, including photos to the Toyota Grand Prix, our sightseeing tour of Los Angeles, and more photos of my trip to New York.
I am heading off to New York City until Wednesday. I am part of my firm's National Hispanic Network Advisory Board and we are having a meeting at my firm's Park Avenue headquarters. Hopefully I'll have a chance to do some touristy things around the city even though I will only be there a couple of days.
I took this photo of the Audi R10 TDI #2 as it flew
past us on turn 9 by aiming through a hole in the fence!
We are back from Long Beach but I haven't had any time to download all of the photos off the camera except for this one. Watching the American Le Mans Series race at the Toyota Grand Prix of Long Beach on Saturday was a highlight for me because I got a chance to photograph my favorite car in action (pictured here). It's funny that after playing Forza Motorsport 2 it totally felt like I had actually driven some of the Le Mans Series cars, but seeing (and hearing) them live made me realize that Forza is only a game. I will post the rest of the photos later this week.
Mama and I are heading to Long Beach to visit with family and friends and watch the Toyota Long Beach Grand Prix. We're returning on Monday. This race will be the last ChampCar race, since the open wheel racing leagues merged earlier this year. Unfortunately it will be missing all of the top ChampCar drivers, since they all made their move to IRL.
Earlier today, upon returning from a walk to the Ferry Building (2.5 miles round trip), I noticed a strange bump on the top of my right foot. The bump is pretty hard, about the size of a marble, and doesn't hurt at all. Weird right!? I of course went on a Googling expedition to find out what the hell it is. After some searches, I found out that it is likely a ganglion cyst that developed from injuring my foot while walking 12-14 miles in a couple of days last week while in Washington, DC. Either that or it happened when I twisted my foot walking to work the other day after my return from DC. Either way this thing on my foot looks really weird, I certainly hope it goes away on its own soon.
We returned from Washington, DC last night and really enjoyed the history of the city. We were blessed to have pretty good weather while we were there so we got a chance to see the monuments without rain or snow, which would have sucked! I just posted the photos taken during our trip onto Flickr. I hope that I'll get a chance to add tags and captions to the photos soon. Here's my favorite from the set, check them all out is you have some time.
I finally got around to getting photos from Fleet Week (October) and our visit to Hawaii (December) off my camera and posted them on Flickr last night. We are still in the process of taking and sorting all of the photos we are taking in Washington, DC and I will be posting those later.