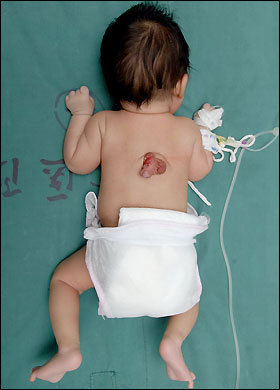 According to news sources, a baby in central China was born with a second penis growing out of his back! I totally thought that this was a Photoshop-attached penis when I first saw this and I am still on the fence as to whether this is real. I followed the links to the source of the story and found that it was The Sun in the U.K. Isn't that a tabloid that would run a bat baby story every week just to move papers?
Then again, I guess this could be real. The story goes on to say that doctors spent 3 hours in surgery removing the extra penis. "I am sure he will be much happier with zero penises on his back" said the doctor performing the surgery. Well, just kidding. But I bet that a discussion about penises growing on the backs of babies doesn't translate well from Chinese to English. Lastly, I wonder if this kid was born near a nuclear reactor? This is all very Chernobyly.
Read the story by clicking here. Via The Huffington Post.
No Comments »
No comments yet.
RSS feed for comments on this post.
Leave a comment