Almost two years ago I wrote about a small Nerdcore film seeking distribution. Nerdcore for Life will finally be shown in California with its debut here at the San Francisco Frozen Film Festival in a couple of weeks!
The Nerdcore For Life screening will take place on Saturday, July 12th, 2008 at 4:15pm at the historical, 300-seat Roxie Theater in San Francisco's Mission district located at 3117 16th Street. Tickets are $10 and will be available at the box office on the day of the screening or available now on-line at www.frozenfilmfestival.com.
Immediately after the film screening there will be a free after-party featuring performances by several of the most popular artists in Nerdcore including San Francisco native Doctor Popular and Stanford alum, MC Lars. The after-party will take place at the old-school hip-hop themed club, the Double Dutch. Located at 3192 16th Street, it is only 500 feet from the Roxie Theater. The performances will begin at 7pm. Check it out!
Owen and I rode 19 miles today on the mountain bikes. We crossed the Golden Gate Bridge but chickened out on climbing to the top of Hawk Hill after climbing up to the bridge approach from Baker Beach. Next week will be our first attempt at Hawk Hill after nearly 3 years of not doing that ride.
I want to be able to film HD home movies and play them on my HDTV right off my server, a Buffalo Terastation, without the use of the camcorder for playback. The technology that would allow this live local network streaming to happen is UPnP. Many devices are just now starting to have this technology built-in, but you can typically hack older devices to become a UPnP compliant server or client.
About a month ago, I hacked my Terastation and installed Twonkyvision software that allows you to stream media (movies, photos, and music) to a UPnP enabled client. The only UPnP client I have is my Xbox 360, which only plays Windows media files and has an awful interface for accessing photos and music. Since I don't plan to hack the Xbox 360, I immediately started researching the possibility of using something else as UPnP client that would play all streamed video formats with ease. Enter Apple TV.
Last week I picked a used 40GB Apple TV on Ebay for $150 plus shipping to see if I could hack it and have it become the new UPnP client on my home network for playback of movies stored on my Terastation. While I still haven't hacked the Apple TV to be a UPnP client for the Terastation, I am very impressed with the default out of the box functionality.
George Carlin, he will be missed.
George Carlin uttered these seven dirty words in a monologue the year I was born and was arrested for it. The FCC sued the radio station that played the monologue uncensored claiming that the broadcast was obscene. Eventually the Supreme Court ruled for the radio station (and indirectly, George Carlin) in a landmark decision. The decision formally established indecency regulation in American broadcasting. In follow-up rulings, the Supreme Court clarified that the words might be acceptable under certain circumstances, particularly at times when children would not be expected to be in the audience.
The bottom line: the world would be a different place without George Carlin.
In light of the recent wildfire on San Bruno mountain, I thought it would be cool to post the new Smokey the Bear ads that were just created. Smokey is not animated anymore, he's totally CGI and lifelike. He's so lifelike it's almost creepy, but his message is the same: only you can prevent wildfires. Join the new campaign and "get your Smokey on."
I did *not* make up "get your Smokey on," that's the name of the new Smokey the Bear campaign. Cheesy, but still a good message. Pay attention and don't start wildfires people!
It is 89F degrees in downtown San Francisco with a cool breeze right now. I am heading off to Yerba Buena Gardens to chill out in the sun for a bit before heading home. It's just awesome weather right now.
Tiger Woods will have surgery on his left knee and will be out the rest of the year. His left knee injury has been bothering him for the last 10 months despite winning 9 of 12 tournaments he entered and winning the U.S. Open Championship a couple of days ago. The moral of the story: Tiger Woods with a broken knee is still better than all other golfers in the world. Damn.
The Lakers started trailing the Celtics last night in the third quarter and then basically gave up on the game. The final score had the Celtics up by 39 points, the largest margin of victory ever for a title clinching game. I certainly hope that the young Lakers bench remembers what losing feels like so that they can get their shit together for next year. I think that with Andrew Bynum back in the lineup they have an opportunity to get back to the Finals next year.
Big ups to the Boston Celtics, they totally deserve the trophy this year. They outplayed the Lakers. They had the heart and intensity to win the championship. Kevin Garnet, Paul Pierce, and Ray Allen played a great game. I bet Kevin Garnet is happy to finally get the win. He's one of the best players in the game and unlike many other great players (John Stockton and Karl Malone come to mind) he finally has a championship ring.
I believe that the Lakers can win tonight and again on Thursday to win the NBA Championship, becoming the first team in history to comeback from a 3-1 deficit to win the Finals. Do they believe they can win!? I know Kobe knows how to win, but does the rest of the team? Can they do it? Just one more win tonight to tie the series and force a game 7. Go Lakers!
History was made yesterday as same-sex couples legally married. They should be careful what they wish for. Because sadly, the first same-sex divorce is going to happen in a few weeks. That is what happens when people marry, some will inevitably divorce. But I am sure the first same-sex divorce will not be nearly as publicized. Either way, yesterday was a happy day for many. Big ups.
Yes, you too can rule the galaxy with an iron fist in your very own Emperor Workstation by NovelQuest. This workstation is an "ergonomic solution that enhances comfort, productivity, and gaming experience." Surely this thing has Death Star controls on it somewhere.
The company that makes this chair also makes an interesting looking game called Mindball where players try to control a ball using only Alpha and Theta brainwaves. The website says that the player that is most relaxed usually wins the game. Clearly every office could use one of these.
The Lakers blew a 24-point lead against the Celtics tonight. I was stunned, the crowd in the Staples Center was stunned, hell, even the Lakers were stunned. Chalk it up to inexperience, but it happened. With the loss the Lakers have probably sealed their fate, since no team has ever come back from a 3-1 deficit to win the NBA Championship. I really hope they pull it off, but it is highly unlikely that they can win 3-in-a-row against the Celtics, with the last 2 games in Boston. Then again, I didn't expect them to reach the playoffs and let alone be in the finals. One thing is certain, they sure could use Andrew Bynum right now.
I was surfing the Internets and found the San Alfonso Del Mar Resort. The resort features the largest swimming pool in the world, measuring 19 acres of surface area and over 1000 yards in length. Well, it's actually more like a saltwater lagoon than a swimming pool. It is so large that you can practice sailing on it! It is a true engineering marvel that I hope we will be able to visit someday soon. Also, here is a link to the company that created the technology for the lagoon and a link to recent U.K. newspaper story about the resort.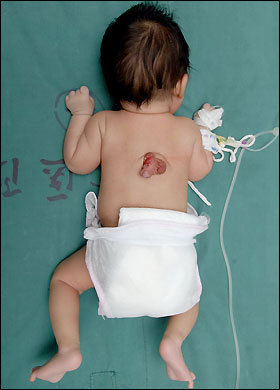 According to news sources, a baby in central China was born with a second penis growing out of his back! I totally thought that this was a Photoshop-attached penis when I first saw this and I am still on the fence as to whether this is real. I followed the links to the source of the story and found that it was The Sun in the U.K. Isn't that a tabloid that would run a bat baby story every week just to move papers?
Then again, I guess this could be real. The story goes on to say that doctors spent 3 hours in surgery removing the extra penis. "I am sure he will be much happier with zero penises on his back" said the doctor performing the surgery. Well, just kidding. But I bet that a discussion about penises growing on the backs of babies doesn't translate well from Chinese to English. Lastly, I wonder if this kid was born near a nuclear reactor? This is all very Chernobyly.
Read the story by clicking here. Via The Huffington Post.
A new iPhone was introduced by Steve Jobs yesterday at the Apple World Wide Developers Conference (WWDC). The new version of the phone will feature faster 3G speeds, built-in GPS, and half the price of the current version ($199). Wow, how bummed are the peeps that paid $399 less than a year ago!? Very bummed. Luckily, Apple and AT&T decided to give everyone who "bought their iPhone in a AT&T store" the chance to return it to for 90 percent of its value: 100 percent less 10 percent restocking fee. It is still not clear if this deal is available for those that purchased their iPhone from a website or direcly from apple.
Most importantly though, is that the new iPhone will feature push email technology and a built in Exchange client called ActiveSync. It is unclear from press reports what additional software corporations would have to purchase to make this work. Most corporations run either GoodLink server (for Palm Treos) or BlackBerry Enterprise Server (for BlackBerry). Some, like my company, actually run both of these for their integration with Microsoft Exchange. Many large companies are leery of installing another set of servers to support iPhone users.
It can't possibly be that difficult to code a GoodLink or BES client for the iPhone can it? I don't know the answer to that question, but it seems one that could be easily answered at the WWDC. Still, nobody seems willing to talk to the media about the possibility of a GoodLink or BES option. It may not matter though, because at $199 the iPhone just became affordable for corporate users and those users may demand iPhones by any means necessary, servers be damned. Only time will tell if this new iPhone gets the corporate adoption that Apple is looking for. Stay tuned.
Wow, in this information age we have become so totally spoiled that when a big website like Amazon.com goes down we just don't want to believe it. I tried accessing it from my Blackberry from my laptop at work, but to no avail. It is definitely down right now (see the screen shot). Crazy!
I remember the days when if you wanted to buy something you had to get off your fat ass and walk to a store to get it. I started to think as to when the last time I had bought electronics at a store and I couldn't remember. It was at least three years ago. Amazon better come back up or I may actually have to go to a Best Buy.
Update: Amazon declared the outage over at about 3:25pm Pacific Time.
A giant sized rabbit like the one pictured above was terrorizing a U.K village a few years ago by performing nighttime raid, leaving behind giant paw prints and destroyed carrots, leeks, onions, and turnips. It's just like the Wallace and Gromit film, The Curse of the Were-Rabbit. How did rabbits get this big? This one is the size of a mid-sized dog! I'll tell you what, if I saw something this size in the alleyway near my house I would be terrified for myself, to hell with vegetables!
Rabbit experts say the culprit could be an escaped giant domestic rabbit. Some pet breeds can grow to more than three feet (one meter) in length. England holds the record for largest rabbit in the world. The continental rabbit pictured here weighs in at 35 pounds (15.9 kilograms) and measures 3 feet, 6 inches (107 centimeters) long. Originally bred for their meat, other massive breeds include the British giant and the Flemish giant. I had no idea that there were rabbits this big. Big ups to Dieter for sending me the link.
I have been waiting all week for the start of the NBA Finals. Watch 'em!
The security footage above shows a lowly cube dweller going completely apeshit. He attacks one of his co-workers with a binder and proceeds to destroy the small office while shocked co-workers look on. The scary thing is that these guys look like accountants (yikes)! I guess what I want to know is what the hell did the guy that shuffled his papers say to instigate this mayhem? I mean, he did get rocked in the head with a binder for saying something, didn't he?
I bet you this type of thing happens more often than we think all over the world, but now the footage of these events are finally seeing the light of day. Here's a link to the same incident from another angle and with sound taken by someone using a cell phone. From the voices in the video it seems like they are speaking Russian. Crazy. Via Boing Boing.
It's finally over.  Barack Obama clinched the nomination.  Yeah, I know this should come as no surprise.  This was been seen by many as a mathematic inevitability as far back as 2 months ago.  Now I am sad to see the talking heads, and the Hillary Clinton campaign I am sure, talking about Barack possibly taking Hillary as a running mate.  Bill Clinton in fact has reportedly been speaking to Democratic party leaders behind closed doors in an attempt to compel Barack to give Hillary the vice president nod.
Not only did Hillary not concede the nomination to Barack, she implied that she would not make a decision until she spoke with Democratic party leaders.  It was almost as if she was saying that she was holding her millions of supporters hostage from the rest of the party if she didn't get the vice presidential nod from the Obama campaign.  Really!?  She has graduated from being the psycho ex-girlfriend of the Democratic party to demanding a common law marriage from the party.
"I want half the ticket."  That's what she wants.
Well, too bad.  After all of the mean-spirited attacks that the Clintons, and their minions, have waged against Barack I think it's arrogant and delusional for Hillary to think that all will be forgiven and she would simply be handed half of the ticket for her efforts.  Think again.  There are many a Southerner out there that could help Barack with the "white blue-collar" vote.  I think that an Obama-Edwards ticket would not only get the white blue collar vote, but would not tarnish the primary tenet of the campaign: change.  It's just too bad that I didn't register obamaedwards.com when it wasn't registered.
Hillary, just concede, tell your supporters to vote for Barack and go away!  Really!
A drunk driver crashed into a weekend bike race in Mexico and this photo was snapped right as the drunk driver plowed head-on into a group of bike riders. It's truly amazing how high the riders and bikes were thrown from the impact of the collision. Surprisingly, only 1 person was killed in the accident.
The bike race was being held near the United States-Mexico border near Brownsville, Texas. The drunk driver is reportedly a U.S. citizen that lives in Brownsville that was drunk and fell asleep at the wheel. Crazy.
One of the biggest rivalries in sports is still alive. In the 1960's it was Wilt Chamberlain vs. Bill Russell, in the 1980's it was Magic vs. Bird, and now in the 2000's it's Kobe vs. Kevin Garnet. It's funny how the old becomes new again every 20 years or so. I cannot wait for the two biggest dynasties in basketball to meet again in the NBA Finals.