The Los Angeles Lakers beat the San Antonio Spurs tonight to win the Western Conference and head to the NBA Finals. The Lakers came back from a 17-point deficit and made it look easy, almost like they were toying with the Spurs knowing they could come back at any time. Kobe dropped 39 points on the way to the Lakers 100-92 win.
It was only fitting that an almost teary-eyed Jerry West presented Mitch Kupchak with the Western Conference trophy. Clearly, it was Kupchak's trades at the beginning of the season that made this win possible.
Even without their starting center, Andrew Bynum, the Lakers are in a good position to win the NBA Finals. The supporting cast members around Kobe have settled into their respective roles and have proven that they can perform under the pressure of the playoffs. Now they have to prove that they can handle the pressure of the NBA finals.
Here's hoping that the Lakers win four more. Go Lakers!
First-year students in Medical School were receiving their first anatomy class with a real dead human body. They all gathered around the surgery table with the body covered with a white sheet. The professor started the class by telling them, "In medicine, it is necessary to have 2 important qualities as a doctor.
The first is that you not be disgusted by anything involving the human body."
"For example," the professor continued by pulling back the sheet, stuck his finger in the butt of the corpse, withdrew it and stuck his finger in his mouth. "Go ahead and do the same thing," he told his students. The students freaked out, hesitated for several minutes, but eventually took turns sticking a finger in the butt of the dead body and sucking on it.
When everyone had finished, the professor looked at them and told them, "The second most important quality is observation. Please note that I stuck in my middle finger and sucked on my index finger. Now pay attention damn it!"
Big ups to Wanda for sending me this joke via email.
I was sitting around looking at prices for gold and was curious about the difference in density between platinum and gold. After a bit of searching, I found the best place for details about all of the known elements is this nifty dynamic periodic table. I spent a couple of hours reading about elements that I knew absolutely nothing about. When I went to high school there were only 109 elements on the periodic table and now there's 118 of them. You know you are getting older when the physical world is very literally "changing all around you."
Nobody really wants to say that we are in a recession. But all you have to do is read the news to know that things are not getting any better. Gas prices have made Americans drive 4.3 percent less compared to a year ago. This doesn't seem like a big deal until you realize that 4.3 percent is equivalent to 11 billion miles! U.S. home prices just dropped 14.1 percent from a year ago last month, which represents the largest percentage drop year-over-year since they started tracking home prices in 1988. The recent drops in home sales and prices have essentially cleared all of the price gains from 2004 to the present.
Here we all are at South Point Cliffs on the Big Island a couple of years ago.
Our friends Larry and Tina were here today visiting us from Hawaii. We met up with them and a couple of mutual friends and had a nice dinner and some tasty beverages nearby, including some delicious champagne. We were very happy to see them and wish we could visit Hawaii more often to see them. It's funny, we just saw them and already we miss them.
Are you one of those people that can't wait for the San Francisco International Film Festival every year?  Well wait no longer.  Do you wish there was a way to see films from previous festivals again?  Well your wish has come true.  The San Francisco Film Society will start showing weekly films from its film programs year round at a screen at the Sundance Kabuki Cinemas.  The first screening will be a film that was shown at the 2007 Film Festival titled Times and Winds (Bes vakit, Turkey 2006) starting on Friday, June 13th.  Check out the SFFS Events page for information on future weekly screenings.
The Phoenix Lander successfully touched down onto the Martian Arctic a little over 16 hours ago. It is not as cute as the Pathfinder, which captured the world's imagination 11 years ago, and it doesn't look as robust as the exploration rovers Spirit and Opportunity, which are still running after nearly 4 years. Still, the Phoenix has already started sending back photos of well, dirt. But most importantly, the Phoenix sensors will sample the dirt to see if there is evidence of organic life in it. I don't think this thing has wheels so the mission is no going to be as exciting to watch as the previous ones. Scientists sure are excited though.
There will be broken hearts all over San Francisco. I just saw the story that Gavin Newsom and Jennifer Siebel are planning on getting married this July at the Siebel family ranch in Montana. Wow, his self-professed girlfriend is gonna be pissed! The fact that she hasn't posted an entry about the planned wedding is proof that she doesn't know yet. Poor , poor Beth! But come on! We all knew that Gavin was likely going to get married before he ran for Governor. You know, family values and all that. Gavin knows that a bachelor is never going to be elected into the governor's mansion. Well played Newsom, well played.
The Bay to Breakers this year turned into a drunken mess with people crapping and pissing all over the entire race route and Golden Gate Park. Don't they know we have the homeless for that!? Kids in their early 20s were being blamed for the mess and many in the Richmond and Sunset districts complained of drunk kids terrorizing residents while waiting for the N-train and buses back to downtown.
A friend of mine that ran the race agreed that it was crazy this year with more booze and public drunkenness than ever. I for one am glad that we live near the start of the race and people have not had time to eat and drink enough to be a problem in SoMa. Residents of the Sunset and Richmond are pissed. Let's see what if anything changes for the race next year.
If I paid $175 for a burger, it better give me wings. Really, I am not joking!
Deeyam! A place called the Wall Street Burger Shoppe is offering a burger made with Kobe beef, truffles, foie gras, fancy cheese and topped with real gold flakes. How much would you pay for such a fine burger? Well, the answer is $175, because they just raised their price from $150. Only investment bankers in New York would dare pay that much for a burger to impress their "friends." But a friend would never let you pay that much for a burger! That would never happen here in San Francisco since paying $175 for a burger would be so nouveau riche.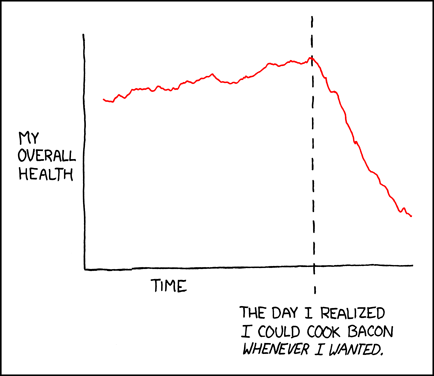 Ah yes, I can almost remember the moment 10 years ago. Via xkcd.
This weekend was perfect! The weather was a sunny and warm 75F degrees with a soft cool breeze on Saturday and slightly cooler on Sunday, but still sunny. A stark contrast to the three days of 90F degree plus temperatures we had during the week last week. Anything past 85F degrees in San Francisco is oppressive because nobody has air conditioning here!
A Swiss man died trying to win a spitting contest against his friend. Two grown men were trying to see who could spit furthest from the balcony they were standing, when one took a running start and…(you can see where this is going)…plummeted 19 feet head-first to the street below. He subsequently died from his injuries at the hospital. I bet he won the contest, too! Moral of the story: spitters never prosper.
Gavin Newsom reacting to news of the
ruling from his office earlier today.
The State of California Supreme Court ruled that gays and lesbians have a constitutional right to marry in California earlier today. What started with Mayor Gavin Newsom performing same-sex marriages in the San Francisco courthouse in February 2004 culminated with today's ruling. The ruling is likely to flood county courthouses with applications from couples newly eligible to marry when the decision takes effect in 30 days.
San Francisco is a madhouse right now with celebrations going on in the Castro and downtown at the Civic Center. You can feel the same excitement in the air as when the marriages started happening at the San Francisco courthouse in 2004. This is a historic event that would not have been possible without the dedicated activists and supporters from the city of San Francisco.
This guy must have balls of steel.

A Swiss pilot constructed a home-made jet-powered wing, attached it to his back, and jumped out of a perfectly good plane to test his device. The wing, which has an 8-foot wingspan and weighs 120 pounds, allowed him to fly at speeds of up to 186 mph. After his test flight he landed with the aide of a parachute.

I just saw Iron Man last weekend and have to say that the video of the flight reminded me of the way that Iron Man flew in the film. Clearly there may be military implications to perfecting this technology. It's hard to believe that this is real. Oh, and the guy has a website dedicated to his exploits too, but it's in French.
I am beta testing the new version of Movable Type, currently 4.15 Beta 5. As such, if you should happen to see something squirrelly on the site please email me and let me know. Thanks!
I have to say that I have gotten used to using twitter and receiving updates from my friend in Hawaii on an almost hourly basis (he tweets a lot). So when twitter went down today I was a bit dismayed and shocked at how it slowed my front page load times to a crawl. Because of this, I have removed the twitter status from my blog pages until they get their act together.
This new BlackBerry is way faster than an iPhone.

The new BlackBerry Bold, also known as the BlackBerry 9000, has been launched and is expected to be available to consumers sometime later this summer in an exclusive deal with AT&T. It has twice the resolution as the Curve and a darker brighter screen similar to that of the iPhone. It has the following features, most impressive being the 3G compatibility and speed:
Tri-band HSDPA (3G Technology)
624-MHz processor
Wi-Fi (802.11 a/b/g)
Half-VGA (480×320 resolution) color LCD
128 MB Flash memory plus 1 GB on-board storage memory
2 megapixel camera with video recording capability, built-in flash and 5x digital zoom
16GB microSD/SDHC card support
Bluetooth 2.0, USB 2.0 support
iTunes support via BlackBerry Media Sync
5 hour talk time, 13 days stand-by
Compared to the Curve, it has much more internal memory, a glossy metallic look, and adds corporate-strength Wi-Fi capabilities to 3G cellular and Bluetooth radios. I cannot wait to get one of these to replace my BlackBerry Pearl.
The earthquake that struck China was the same magnitude as the earthquake that struck San Francisco in 1906. That earthquake and the ensuing fire destroyed the city of San Francisco. The Chinese earthquake's epicenter was at least 900 miles from the large urban center of Beijing in an area that can best be described as suburban. Still, the Chinese earthquake's death toll is currently 10,000 people with tens of thousands of people injured.
Can you imagine if an earthquake this big happened again in San Francisco? Is our infrastructure advanced enough to withstand the next earthquake? In San Francisco, it is not a matter of "if" but "when" the next quake will happen. Scientists all agree a "big one" will occur in the Bay Area sometime in the next 30 years, with a 50 percent chance that it will be larger than a 7.5 magnitude. Those reports plus the images now coming from China are enough to scare the bejeesus out of San Franciscans.
Several people I have spoken to today mentioned the Chinese earthquake and made parallels to our own geographic area with fear and concern. Some even went as far as calling their insurance companies inquiring about earthquake insurance, which is insanely expensive. It typically doubles most homeowner's premiums and adds a 10 to 15 percent deductible. Also, if the insurance company does not do the math right, you may never get paid on your claim if the insurance company folds after the earthquake.
The fact that people here are considering the insurance after seeing the devastation in China says a lot about the human condition. I would be interested to know how many new earthquake riders are sold due to the Chinese disaster. Whether you have insurance for the next earthquake or not, I am sure the "big one" is somewhere in the back of your mind.
Industry analysts predicted that GTA IV would sell $400 million in its first week, but it sold a staggering $500 million instead. Yes, half a billion dollars worth of sales for a video game in seven days! I bet that no film, concert tour, or any other kind of media has ever generated that much cash in a single week! I for one have been playing the game and can say that it is the most immersive game that I have ever played. And yes, it is clearly *not* for kids.
I was watching Saturday Night Live's opening skit this week in which they depict Hillary Clinton describing her arguments for winning the Democratic party nomination to super delegates as follows: 1) I am a sore loser and will not support Obama if he is the nominee, 2) My supporters are racist and will not vote for Obama if he is the nominee, and 3) I have no ethical standards and will stop at nothing to win against McCain. Is this really all she has left, fear mongering within her own party to get the nomination? It appears so.
Wil Wheaton's blog entry best describes most of my feelings about Hillary Clinton. I used to support her and respect her, and if it wasn't for Obama I would likely still be supporting her. However, I lost all respect for her and her campaign after Geraldine Ferraro when on a racist tirade and she left her unchecked. I applauded Keith Olbermann for calling her out on this. I now think that the Clintons will do anything to win, including destroying the Democratic party in the process. At this point, Hillary is at best the psycho ex-girlfriend of the Democratic party, and at worst she will be like Carrie at the Democratic prom, the convention. Can anybody stop her?
Back from Orlando after an exhausting and very hot week of training. No photos, no commentary. Just glad to be back home and enjoying the relatively cool San Francisco weather.
Well, not really. But a state measure is on the ballot that would end rent control as we know it in cities like Berkeley, Oakland and San Francisco. The measure has renters groups crying foul even though the passing of the measure would not affect current leases. Renters argue that a lack of rent control would lead to thousands of evictions in the city.
Proponents of the measure say rent control subsidizes units, not people, in that rich tenants get the same benefits as poor tenants. I for one know a managing director at a large firm that makes about $400k and lives in a rent controlled 4bd/3ba flat in Pacific Heights that says he has no incentive to ever buy a place in the city. His rent is $2,000 per month, while the market rate is about $8,000 per month. Keep in mind that this guy could easily afford the higher price without hardship. That's just nuts to me.
Read the entire Chronicle article to get deeper perspectives on both sides of this issue. It is a fascinating read that I think fairly represents the differing views.
I am heading off to Orlando and will be there until Friday at a firm training event. The training will be held at the Caribe Royale Hotel just outside of Walt Disney World. I am happy not to be in Walt Disney World, since I think some of the coolest things in Orlando are outside of the Magic Kingdom.
Thirty years ago the first spam email message (unsolicited commercial email) was sent to 393 researchers on the Arpanet network. Nobody knew it was the first spam message and wouldn't call it that until 15 years later, but it was a harbinger of things to come. Now there's formmail spam, comment spam, trackback spam, and every other form of spam imaginable.
Oh! I didn't know there would be goodies! Nugget and I MUNI'd over to the Castro Theatre at 7pm for what we thought was just going to be an really good movie (the title of tonight's film is extremely intriguing, no?), and maybe a little bit of exuberance from the witty and charming film festival director, Graham Leggat, who has waited ALL YEAR for this night. But finding a giveaway bag on our seat (and on every other seat in the house) suddenly changes the way one feels about such things. Well, it did for me, being a person who does not receive such goodie bags on a regular basis. Instantly, my feeling changed from, "Hey, it's great we're out of the house and doing something cultural" to " WOW! Opening night is a BIG DEAL!" I'm a cheap whore for gifts, what can I say.
On every seat in the house of the Castro Theatre lay a lovely turquoise reusable shopping bag (you know, that nylon square shaped bag, like the kind you buy at Whole Foods), filled with "stuff." What kind of stuff? Who cares?! It's a gift bag! OK, here's the basic contents: little packages of locally made biscotti cookies, a notepad from DHL, a souvenir item from Cathay Pacific (the evening's sponsor – Nugget got a Hot Wheels' sized miniature airplane; I got a few magnets with corporate logos on them), a pen from a local insurance company, a few pieces of literature about something or other that immediately went into the recycling bin. The excitement about the gift bag almost was enough of an evening for me. I could have walked out without seeing the movie, and maybe would have been happy. (This girl likes the gifts, what can I say?)
View of Midtown Manhattan from my hotel room in HDR.
The Empire State Building from Rockefeller Center in HDR.
I returned from New York yesterday afternoon and had not a chance to post anything on the Nug until just now. I am glad that I finally had the chance to get a bunch of photos out of my camera, including photos to the Toyota Grand Prix, our sightseeing tour of Los Angeles, and more photos of my trip to New York.