Mama and I are heading off to Ashland, Oregon to visit my friend Mark Asher who lives there. While there we hope to partake in some Shakespeare Festival plays as well as do some white water rafting. Here's wishing all of the Nug readers a fun and safe Labor Day weekend. Adios.
The Greek Prime Minister said arson was suspected in some of the 170 fires that have broken out since Friday morning and have killed 46 people. He declared a nationwide state of emergency and vowed to pursue the perpetrators. The motive for these fires is unclear at this time.
Jamba Juice says that an employee at one of its stores in San Jose tested positive for Hepatitis A and customers may have been exposed to the virus. That's one helluva boost for you, and hey, it's free!
Castello di Amorosa winery is a recreation of a medieval castle that sits a few miles south of Calistoga. The walls and ceiling of the castle contain bricks hundreds of years old, over 850,000 of them all imported from Europe. Where stone was used it was hand-carved by stonecutters following traditional methods, which could mean spending an hour and a half on one stone. Amazing! We haven't been there, but after seeing this story we definitely have to visit.
Funny column about having safe sex at the burning man festival by Violet Blue. Apparently, the attendees aren't called "burners" for nothing, since STD rates in San Francisco go the week after the festival.
Audi USA is putting together an event called the Audi Driving Experience that will feature Audi production vehicles on a race track and professional driving instruction. The event will be in San Francisco on September 12th through 16th, November 27th through 30th, and December 1st through 3rd. The best part is that it will be held at Infineon Raceway and for a lucky few, or those willing to pay extra, will include a lap on the track in the Audi R8 sportscar, pictured above. Needless to say, I am already registered for a session on November 28th.
According to scientists in the field, a major breakthrough in artificial life is likely to come in 3 to 10 years. Artificial life in this instance refers to creating life, protocells, in a petri dish using only chemicals found in DNA. This research may lead to man-made life forms that may assist in solving problems like finding a cure for cancer or getting rid of toxic waste and green house gases. If we could create a single cell from scratch that would be nothing short of amazing!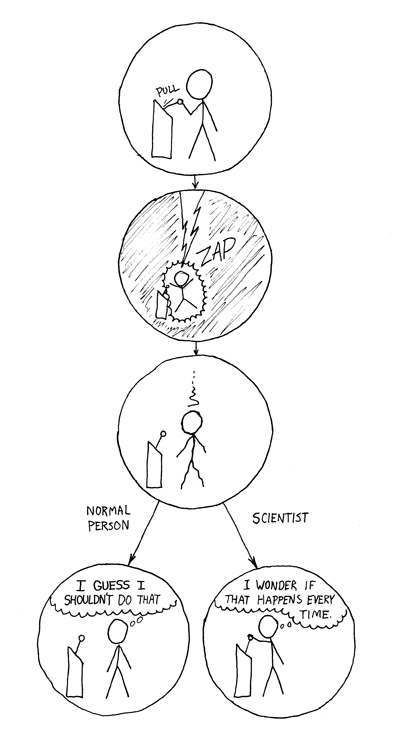 This explains why I was different than the other kids, and always injured.
At the San Diego auditions for Rob Mariano's new reality show, Tontine, a guy was apparently heckling Rob and giving him a hard time. It is unclear exactly what happened, but the guy, who had just been interviewed, threw water at Rob and shoved Rob when approached.
Rob kept telling the guy to walk away and he proceeded to shove Rob again. Rob immediately retaliated with two right jabs. The first jab connected because the guy dug his head into the chest of the staffer trying to separate them.
Eat your heart out Probst! I bet you've wanted to do this to some of your contestants for years!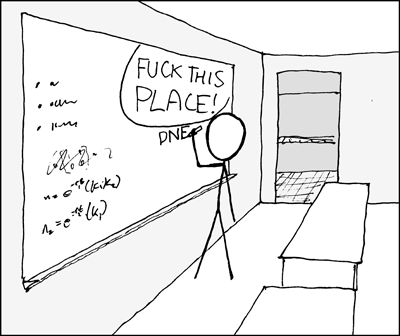 Via
xkcd
, here's the caption for this bit of genius:
I've seen advertisers put their URLs on chalkboards, encircled with a DNE. They went unerased for months. If you see this, feel free to replace the URL with xkcd.com.
A couple of days ago Wired News wrote a story about CalTech graduate student Virgil Griffith who wrote a tool that allows the reverse lookup of IP addresses of those who make Wikipedia edits. So far, Diebold, the CIA, and political campaigns have edited their entries for their own purposes. Also, the music labels have edited the entry for "copyright" to build a historical case for digital rights management by citing Mozart, Handel, and the Library of Alexandria. Sneaky bitches!
Mama and I just got tickets to see the IndyCar series Motorola Indy 300 at Infineon Raceway in Sonoma on August 26th. When I was younger I wasn't a big racing fan even though I lived in Long Beach, the home of the CART (now Champ Car) series Toyota Grand Prix. Sadly, I never went to see the Toyota Grand Prix live, so I am going to make up for it by going to see this Indy race in Sonoma. Well, I also have to admit that I am a huge Danica Patrick fan.
Mark Morford slams the "stillbirth" of GodTube with a scathing column. Excerpt:
But wait! Salvation is, apparently, finally at hand. Witness, won't you, the stillbirth of GodTube.com, the place where good, Net-fearing Christians can go to see awful Christian rap videos and grainy evangelical sermons and 101 flavors of all-American sanctimony with, quite naturally, not a hint of sex or deep humor or true spiritual exploration or religious tolerance. Praise!
Witness, in other words, the thing that modern Christianity seems to do best, and I don't mean help justify brutal unwinnable wars or slam gay people or bash women's rights or promote ignorance of stem cell research or science or music. Because oh hell yes, that's there for you, in heaps and droves and mounds. I mean the other thing: to fracture. To splinter and divide and segregate. You know, to exclude.
I actually thought that GodTube was a joke, but it is 100% real. Crazy.
Gamecock is a video game company founded earlier this year that promises to bring originality back to the video game industry. Well, if its sweet logo is any indication they are well on their way. However, looking at their pipeline all they have is a MMORPG for the PC called Fury, and a horror first-person shooter for the Nintendo DS called Dementium. Well, the logo is cool.
Reason number 132 as to why Chris Daly is a blundering idiot: He tried to pass a measure that would have banned the Blue Angels from the annual Fleet Week festivities held in San Francisco citing public safety concerns. Gee, that's interesting, since district that he represents (which includes SoMa) is nowhere near the water where the aerial acrobatic show takes place. Did he ask his constituency about this lunacy? Of course not. I can't believe that this guy actually represents my district.
Hours after a moderate 5.4 magnitude earthquake centered 25 miles south of Hilo, the Big Island of Hawaii prepared to be hit by hurricane Flossie. Yeah, that's not a typo. It sounds like the name of a dental floss mascot of some kind, but it's a hurricane. Nothing like a little shake and rain on the same day. I sure hope that our friends Larry and Tina are doing okay.
A Japanese motorcycle rider crashed into a guardrail and amputated his leg at the knee. Although he felt excruciating pain he continued to ride for another mile before he noticed that his leg was missing. One of the buddies he was riding with picked up the missing leg that was crushed in the collision. The biker and his leg were taken to the hospital, but the story implied that the crushed limb could not be reattached.
Van Halen has reunited with David Lee Roth for a tour later this year that will include all original band members except bassist Michael Anthony who is being replaced by Eddie Van Halen's son, Wolfgang. Sweet.
Microsoft announced that preorders for Halo 3 have surpassed 1 million copies. I preordered my copy several months ago and can't wait for the game to ship in late September. It's on like Donkey Kong, but with better graphics.
One phrase: what the fuck!? Again, Deadwood was cancelled for this!?
No End In Sight is a documentary by Charles Ferguson, the original creator of Microsoft FrontPage, that pieces together over 200 hours of footage from high ranking officials to give a candid look at the errors made after the fall of Baghdad. The interviewees include Deputy Secretary of State Richard Armitage, Ambassador Barbara Bodine (in charge of Baghdad during the Spring of 2003), Lawrence Wilkerson, former Chief of Staff to Colin Powell, and General Jay Garner (in charge of the occupation of Iraq through May 2003) as well as Iraqi civilians, American soldiers, and prominent analysts.
The film examines the principal errors of U.S. policy, which include allowing the looting of Baghdad, the disbanding of the Iraqi military, the use of insufficient troops, and the removal of professionals from the Iraqi government. The story is retold by the ultimate insiders, not armchair analysts here in the U.S. The film brutally concludes that the errors made created the insurgency, chaos, and violence that exists in Iraq today. And sadly, for the time being, there is no end in sight.
The film opens today at The Embarcadero Center Cinema in San Francisco and Charles Ferguson, the producer and director, will be around to answer questions after the showing on Friday, August 10th at 7:30pm and Saturday, August 11th at 5:00pm. Check it out.
When I heard the fireworks I knew something was afoot. I had just gotten back from Orlando a few hours earlier and was dead tired and sitting on the couch watching stuff off the TiVo. The fireworks were going off and then it dawned on me: there's a game tonight, those fireworks are a little earlier than usual, and Barry must have hit the home run we've all been waiting for.
I quickly turned the game on to see Barry talk about his accomplishment and see the replays–it was awesome. I wish he would have done this last week, when we were at the park for two games. Even though we never sit in the outfield, I thought it would have been cool to catch that ball. Even if the guy that caught it almost got the crap beat out of him in a huge bruising stampede for the ball.
I flew into Orlando today for the ALPFA National Convention and will be here until late Tuesday. The flight here really sucked because there was a kid two rows behind me that decided to turn into Linda Blair and scream at the top of her lungs for most of the flight. Let's hope that's not an omen for the rest of my time here.
A new study found that some office laser printers emit indoor pollution in the form of floating toner particles that if inhaled may contribute to lung and heart disease. I looked at the list of "high-emitters" and my office has a lot of these. I guess I'll be letting the associates pick up items from the printer for me from now on.