The Daily Nugget is officially on hiatus until whenever I get around to it. The site will not go down, but do not expect new posts in the near future. Seriously, I went from writing a daily nugget, to a weekly nugget, to a monthly nugget and now I can't even squeeze out a quarterly nugget. There is just too much going on in my life right now. A 21-month-old at home, taking accounting classes, and studying for the CPA exam have all taken time away from my blogging pastime. I miss it, but I only have time to update Facebook once in a while with baby photos.
I highly recommend the following blogs:
SFist – Local San Francisco news and happenings
CurbedSF – San Francisco real estate
BoingBoing – Techie news for nerds, you know who you are
Gawker – Gossip and news for Manhattan, Silicon Valley (Valleywag) and beyond
Going Concern – Gossip for the accounting industry
Deal Breaker – Gossip for the banking industry
Thank you to all my readers and supporters over the years–your clicking the ads have helped keep the lights on.
Remember this nut that decided to climb the Millennium Tower without thinking about the crazy ass downtown traffic it would cause? He was found guilty today of creating a public nuisance and delaying his own arrest. When sentenced he will face a fine of up to $1,000 and a year in jail. The moral of the story: don't mess with downtown traffic!
If you need another reason to turn on the auto password lock timer on your phone, this is it! The California Supreme court determined through a majority 5-2 decision today that if you are arrested a cop can search the entire contents of your cell phone without a warrant. Justices Kathryn Mickle Werdegar and Carlos Moreno wrote in dissent,
"The potential intrusion on informational privacy involved in a police search of a person"s mobile phone, smartphone or handheld computer is unique among searches of an arrestee's person and effects."
I have to agree with the fact that a cell phone can contain as much information as a full filing cabinet that you would keep in your home. If you need a warrant to open a filing cabinet, then I would argue that you need a warrant to see the contents of the cell phone. And you just know that cops will abuse this and search cell phones before making the decision to arrest you.
The best protection is to turn on encryption and the auto lock timer feature so that your phone locks automatically when not in use. Sure, it's a pain in the ass to put in your password every single time, but your privacy is worth it in the long run should you ever be in the wrong place at the wrong time.
According to this article, the House of Shields bar reopened last night and I will be stopping by there later today to check it out for myself. The big rumor is that there are no televisions there, which is a throwback to the days when the bar was established back in 1908. That means that you should be able to hear your friends speak.
The House of Shields is a San Francisco institution that you have to check out. It's located at 39 New Montgomery, just South of Market Street.
This lady is bat shit crazy and clearly off her meds. She seriously thinks that Obama and reptile aliens will kill us all (video link). If this lady watches the TV show V when it comes back on air, she may actually think it's a news report.
After watching this video I am convinced that robots will rise up and kill us all someday. I mean just look at her! She looks like she's planning some shiznit right now!! I am convinced that she's about to step up and attack someone in that room.
Meg Whitman has famously spent more than $140 million of her own money running for governor of our grand state and is still trailing Jerry Brown just two weeks before the election by 13 points. This is proof positive that all the money in the world can't make you likable when you are as unlikable as Meg Whitman. I mean just look at her! If she loses the election (which seems likely and makes me really giddy) it may make her the biggest loser in the history of politics.
Meg Whitman has a bunch of ads that claim that she came to California 30 years ago because it was so effing awesome back then. Well, someone at the Jerry Brown campaign remembered that Jerry Brown was the governor 30 years ago (see awesome ad below). Zing! Thank you, Meg Whitman, you just helped your opponent make his best argument: "I have been governor and you have not." Game. Set. Match. Adios.
Gap's new logo came and went in less than a week. Much like New Coke, there was a huge public outcry about the new logo. The backlash was swift and furious and the new logo lasted less than a week. In contrast, New Coke was on the market for a little less than three months before Coca-Cola brought back the original formula as "Coca-Cola Classic" back in 1985. The moral of the story: if it ain't broke don't fix it.
The Amazing Race is one of my favorite TV shows. The last couple of seasons have kind of sucked, but I am still a loyal fan. I think that this video clip from the upcoming Amazing Race 17 shows what makes the show so good. It brings people out of their comfort zones and puts them in situations where they may get hurt. I love the slow motion replay too. TAR 17 premieres on September 26th.
An old man decided to climb the Millennium Tower and cause all kinds of traffic ruckus yesterday. The reason for all this craziness? "To dramatize the vulnerability of skyscrapers to terrorism and his own fight against cancer." Uh, so now we are all informed: skyscrapers are vulnerable. Oh wait, that's right, there was this small event called 9/11 which really dramatized the vulnerability of skyscrapers a few years back.
Have you heard of that old man?! We don't need you to tell us skyscrapers are vulnerable. Other ways people learn skyscrapers are vulnerable: getting stuck in elevators and spitting (or being hit by spit) from the top of buildings. We really don't need your assistance to understand the effects of gravity. And cancer. Almost everyone knows someone that has died from cancer. Unless you have a new rare Ostrich Ass Crack virus that you picked up and needs attention, please keep your feet firmly planed on the ground.
Also, if you want to impress us, you need to free climb the building like Alain Robert. You used suction cups. Suction cups!? How are we supposed to take you seriously buddy? I mean c'mon!! Needless to say, most people in The City didn't appreciate the street closure, extra traffic and emergency vehicles. You are just plain lucky the residents in the building gave you water out of their windows instead of trying to take you out Crazy Climber style with a flower pot. Thanks for nothing and enjoy jail.
Derek Powazek wrote a great blog post with ten very helpful tips on how to be a driver in The City. I read through these and can say that they are all reasonable and actionable. The only tip I would add to the list is that if you are a serious San Francisco driver is that you should know all of the events going on in The City at all times. San Francisco is very small and any event causes a huge traffic backlog.
You should know the one day a month when Critical Mass is taking place (last Friday of every month). You should know when parades (Folsom Street, Haight Street Festival, Gay Pride), races (Bay to Breakers, SF Marathon, AIDS Walk), and street closures (JFK in Golden Gate Park on Sundays, filming downtown) are happening to avoid being stuck in traffic. The days when these events are happening are walking days, period. Only advanced drivers should attempt to drive around major events while they are taking place.
Send your friends a link to Derek's tips next time they come into The City and check the event schedule while you are at it. If there is a parade or major event that day, just tell them to take BART or MUNI coming in. Good luck drivers!
Wired used the following graph to validate the assertion that the web is dead as a proportion of total internet traffic:
However, Wired failed to account for the growth of Internet traffic during the same period. There millions of web pages created every single day. Just because the size of these web pages is small in comparison to video doesn't take away the fact that more web pages are created than videos posted every single day. Also, the idea that video is *not* part of web traffic is a bit silly, since YouTube is alas a website on the web and responsible for majority of the video traffic on the Internet.
Taking into account the growth in traffic, the graph should look like this:
Yeah, I don't think we need to worry about the death of the web any time soon. The growth isn't even slowing down yet. Perhaps in an alternate universe where publishing to the Internet is limited to a select group of people the Web is dead, but not here.
Via BoingBoing.
A German tourist was struck by a car and killed this weekend while riding a bike in the North Panhandle on Masonic and Turk. While just last weekend, another German tourist was shot and killed by a stray bullet just one block from Union Square on Mason and Geary. It's hard to believe that German tourists were involved in both of these tragic incidents. The shooting last weekend was particularly tragic, since the lady that was shot was only walking down the street after dinner, not riding a bike through city streets which is inherently dangerous. Stay safe.
In case you haven't already noticed, The Daily Nugget is on hiatus and I haven't posted new entries for the last three months. With a one-year-old baby at home I just have not had enough time to post (see moblog for baby). I hope to update the whole site to include Facebook registration and a few other new features within the next month or so. Once the new features are installed I will resume posting.
Wired did a great Q&A with the creator of Pac-Man for its 30th anniversary. Happy Birthday Packie! "I got a pocket full of quarters and I'm headin' to the arcade…"
This video captures the craziness of Bay to Breakers 2010 in a nutshell. I love the fun of the race, but the drunkenness and public urination (and even defecation) I think we can do without. Either way, B2B is uniquely San Francisco. Big ups to "rockjonj" for putting this together.
Update: Here's a link to SFGate's great photos of the event as well.
Sweet video of a bright summer day at Dolores Park in San Francisco.
The Better Marriage Blanket (YouTube Infomercial) is a fart filter that uses "the same fabric used by the military to protect from chemical weapons." It would make an awesome wedding gag gift. It's just too bad most of my friends are married.
Here is a remixed trailer for the for the film Tron. It is much more exciting than the original 1982 trailer. If the original Tron were re-released with this new remixed trailer it may actually do really well at the box office. Never underestimate the power of a good trailer. Via BoingBoing.
Remixed trailer:
Original trailer:
The first dot-com domain was registered by Symbolics, Inc. on March 15, 1985. Symbolics, Inc. was a computer manufacturer that created machines that ran the LISP programming language and was in operation until July, 2005. After that a privately held company bought its intellectual property and assets and continues to operate under the name Symbolics but using the symbolics-dks.com domain name. The new Symbolics company sold the symbolics.com domain name to a domain name investment broker called xf.com in August, 2007.
Happy anniversary to dot-coms everywhere!
I always knew that man's innovation and ingenuity would lead us to this point in human evolution. This coffee inhaler is perfect for those that need the caffeine without the time to drink a cup of coffee.
Each "whiffer" costs $3 and can get up to nine hits from an individual stick, depending on how hard the user inhales. "Coffee good to the last puff!" Thank you.
Via BoingBoing.
The guys from the Gadling's Travel Talk show spent one day in San Francisco and hit a few highlights. Clearly it is impossible to see all of San Francisco in only 24 hours, but they do have good tips if you only have one day. The most important of which is to stay away from tourist traps like Fisherman's Wharf and Alcatraz. Check it out.
My brother's friends from Tampa visited me in San Francisco yesterday and we had lunch at the Osha Thai location near my office. After that we had Peet's Coffee and hung out at Yerba Buena Gardens for a few minutes before they went to SFMOMA. Here's a photo of all of us in front of Osha Thai. Good times.
A girl is stuck overnight at the Pittsburgh airport with 10 hours to kill during the snowpocalypse. Does she sit alone and stare at her laptop answering email for 10 hours? No! She produces an epic video that rivals anything that Ferris Bueller would have put together in the same span of time. Totally awesome. Via BoingBoing.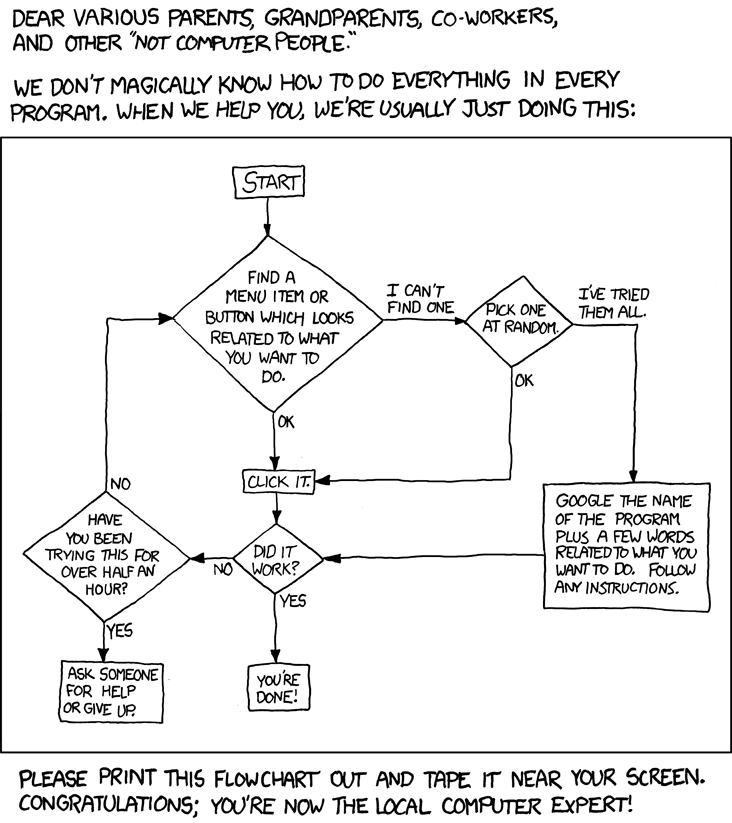 Click for larger size. Via xkcd.
I am done providing tech support. Next time you are in a jam, please use this handy tech support cheat sheet. This is exactly what I do to help you every single time! It's not that hard really. You know who you are.
The pilot of the plane that crashed into the IRS building in Austin, Texas earlier today, Joseph Andrew Stack, left an online suicide note. Since I have no idea how long the website will be up, I have reprinted the suicide note here in its entirety. It's a fascinating look at some loser who just gives into the crazy in his head.
Page Title: Well Mr. Big Brother IRS man… take my pound of flesh and sleep well.

If you're reading this, you're no doubt asking yourself, "Why did this have to happen?"  The simple truth is that it is complicated and has been coming for a long time.  The writing process, started many months ago, was intended to be therapy in the face of the looming realization that there isn't enough therapy in the world that can fix what is really broken.  Needless to say, this rant could fill volumes with example after example if I would let it.  I find the process of writing it frustrating, tedious, and probably pointless… especially given my gross inability to gracefully articulate my thoughts in light of the storm raging in my head.  Exactly what is therapeutic about that I'm not sure, but desperate times call for desperate measures.

We are all taught as children that without laws there would be no society, only anarchy.  Sadly, starting at early ages we in this country have been brainwashed to believe that, in return for our dedication and service, our government stands for justice for all.  We are further brainwashed to believe that there is freedom in this place, and that we should be ready to lay our lives down for the noble principals represented by its founding fathers.  Remember? One of these was "no taxation without representation".  I have spent the total years of my adulthood unlearning that crap from only a few years of my childhood.  These days anyone who really stands up for that principal is promptly labeled a "crackpot", traitor and worse.

While very few working people would say they haven't had their fair share of taxes (as can I), in my lifetime I can say with a great degree of certainty that there has never been a politician cast a vote on any matter with the likes of me or my interests in mind.  Nor, for that matter, are they the least bit interested in me or anything I have to say.

Why is it that a handful of thugs and plunderers can commit unthinkable atrocities (and in the case of the GM executives, for scores of years) and when it's time for their gravy train to crash under the weight of their gluttony and overwhelming stupidity, the force of the full federal government has no difficulty coming to their aid within days if not hours?  Yet at the same time, the joke we call the American medical system, including the drug and insurance companies, are murdering tens of thousands of people a year and stealing from the corpses and victims they cripple, and this country's leaders don't see this as important as bailing out a few of their vile, rich cronies.  Yet, the political "representatives" (thieves, liars, and self-serving scumbags is far more accurate) have endless time to sit around for year after year and debate the state of the "terrible health care problem".  It's clear they see no crisis as long as the dead people don't get in the way of their corporate profits rolling in.

And justice? You've got to be kidding!

How can any rational individual explain that white elephant conundrum in the middle of our tax system and, indeed, our entire legal system?  Here we have a system that is, by far, too complicated for the brightest of the master scholars to understand.  Yet, it mercilessly "holds accountable" its victims, claiming that they're responsible for fully complying with laws not even the experts understand.  The law "requires" a signature on the bottom of a tax filing; yet no one can say truthfully that they understand what they are signing; if that's not "duress" than what is.  If this is not the measure of a totalitarian regime, nothing is.

How did I get here?

My introduction to the real American nightmare starts back in the early '80s.  Unfortunately after more than 16 years of school, somewhere along the line I picked up the absurd, pompous notion that I could read and understand plain English.  Some friends introduced me to a group of people who were having 'tax code' readings and discussions.  In particular, zeroed in on a section relating to the wonderful "exemptions" that make institutions like the vulgar, corrupt Catholic Church so incredibly wealthy.  We carefully studied the law (with the help of some of the "best", high-paid, experienced tax lawyers in the business), and then began to do exactly what the "big boys" were doing (except that we weren't steeling from our congregation or lying to the government about our massive profits in the name of God).  We took a great deal of care to make it all visible, following all of the rules, exactly the way the law said it was to be done.

The intent of this exercise and our efforts was to bring about a much-needed re-evaluation of the laws that allow the monsters of organized religion to make such a mockery of people who earn an honest living.  However, this is where I learned that there are two "interpretations" for every law; one for the very rich, and one for the rest of us… Oh, and the monsters are the very ones making and enforcing the laws; the inquisition is still alive and well today in this country.

That little lesson in patriotism cost me $40,000+, 10 years of my life, and set my retirement plans back to 0.  It made me realize for the first time that I live in a country with an ideology that is based on a total and complete lie.  It also made me realize, not only how naive I had been, but also the incredible stupidity of the American public; that they buy, hook, line, and sinker, the crap about their "freedom"… and that they continue to do so with eyes closed in the face of overwhelming evidence and all that keeps happening in front of them.

Before even having to make a shaky recovery from the sting of the first lesson on what justice really means in this country (around 1984 after making my way through engineering school and still another five years of "paying my dues"), I felt I finally had to take a chance of launching my dream of becoming an independent engineer.

On the subjects of engineers and dreams of independence, I should digress somewhat to say that I'm sure that I inherited the fascination for creative problem solving from my father.  I realized this at a very young age.

The significance of independence, however, came much later during my early years of college; at the age of 18 or 19 when I was living on my own as student in an apartment in Harrisburg, Pennsylvania.  My neighbor was an elderly retired woman (80+ seemed ancient to me at that age) who was the widowed wife of a retired steel worker.  Her husband had worked all his life in the steel mills of central Pennsylvania with promises from big business and the union that, for his 30 years of service, he would have a pension and medical care to look forward to in his retirement.  Instead he was one of the thousands who got nothing because the incompetent mill management and corrupt union (not to mention the government) raided their pension funds and stole their retirement.  All she had was social security to live on.

In retrospect, the situation was laughable because here I was living on peanut butter and bread (or Ritz crackers when I could afford to splurge) for months at a time.  When I got to know this poor figure and heard her story I felt worse for her plight than for my own (I, after all, I thought I had everything to in front of me).  I was genuinely appalled at one point, as we exchanged stories and commiserated with each other over our situations, when she in her grandmotherly fashion tried to convince me that I would be "healthier" eating cat food (like her) rather than trying to get all my substance from peanut butter and bread.  I couldn't quite go there, but the impression was made.  I decided that I didn't trust big business to take care of me, and that I would take responsibility for my own future and myself.

Return to the early '80s, and here I was off to a terrifying start as a 'wet-behind-the-ears' contract software engineer… and two years later, thanks to the fine backroom, midnight effort by the sleazy executives of Arthur Andersen (the very same folks who later brought us Enron and other such calamities) and an equally sleazy New York Senator (Patrick Moynihan), we saw the passage of 1986 tax reform act with its section 1706.

For you who are unfamiliar, here is the core text of the IRS Section 1706, defining the treatment of workers (such as contract engineers) for tax purposes. Visit this link for a conference committee report (http://www.synergistech.com/1706.shtml#ConferenceCommitteeReport) regarding the intended interpretation of Section 1706 and the relevant parts of Section 530, as amended. For information on how these laws affect technical services workers and their clients, read our discussion here (http://www.synergistech.com/ic-taxlaw.shtml).

SEC. 1706. TREATMENT OF CERTAIN TECHNICAL PERSONNEL.

(a) IN GENERAL – Section 530 of the Revenue Act of 1978 is amended by adding at the end thereof the following new subsection:

(d) EXCEPTION. – This section shall not apply in the case of an individual who pursuant to an arrangement between the taxpayer and another person, provides services for such other person as an engineer, designer, drafter, computer programmer, systems analyst, or other similarly skilled worker engaged in a similar line of work.

(b) EFFECTIVE DATE. – The amendment made by this section shall apply to remuneration paid and services rendered after December 31, 1986.

Note:

"another person" is the client in the traditional job-shop relationship.
"taxpayer" is the recruiter, broker, agency, or job shop.
"individual", "employee", or "worker" is you.




Admittedly, you need to read the treatment to understand what it is saying but it's not very complicated.  The bottom line is that they may as well have put my name right in the text of section (d).  Moreover, they could only have been more blunt if they would have came out and directly declared me a criminal and non-citizen slave.  Twenty years later, I still can't believe my eyes.

During 1987, I spent close to $5000 of my 'pocket change', and at least 1000 hours of my time writing, printing, and mailing to any senator, congressman, governor, or slug that might listen; none did, and they universally treated me as if I was wasting their time.  I spent countless hours on the L.A. freeways driving to meetings and any and all of the disorganized professional groups who were attempting to mount a campaign against this atrocity.  This, only to discover that our efforts were being easily derailed by a few moles from the brokers who were just beginning to enjoy the windfall from the new declaration of their "freedom".  Oh, and don't forget, for all of the time I was spending on this, I was loosing income that I couldn't bill clients.

After months of struggling it had clearly gotten to be a futile exercise.  The best we could get for all of our trouble is a pronouncement from an IRS mouthpiece that they weren't going to enforce that provision (read harass engineers and scientists).  This immediately proved to be a lie, and the mere existence of the regulation began to have its impact on my bottom line; this, of course, was the intended effect.

Again, rewind my retirement plans back to 0 and shift them into idle.  If I had any sense, I clearly should have left abandoned engineering and never looked back.

Instead I got busy working 100-hour workweeks.  Then came the L.A. depression of the early 1990s.  Our leaders decided that they didn't need the all of those extra Air Force bases they had in Southern California, so they were closed; just like that.  The result was economic devastation in the region that rivaled the widely publicized Texas S&L fiasco.  However, because the government caused it, no one gave a shit about all of the young families who lost their homes or street after street of boarded up houses abandoned to the wealthy loan companies who received government funds to "shore up" their windfall.  Again, I lost my retirement.

Years later, after weathering a divorce and the constant struggle trying to build some momentum with my business, I find myself once again beginning to finally pick up some speed.  Then came the .COM bust and the 911 nightmare.  Our leaders decided that all aircraft were grounded for what seemed like an eternity; and long after that, 'special' facilities like San Francisco were on security alert for months.  This made access to my customers prohibitively expensive.  Ironically, after what they had done the Government came to the aid of the airlines with billions of our tax dollars … as usual they left me to rot and die while they bailed out their rich, incompetent cronies WITH MY MONEY!  After these events, there went my business but not quite yet all of my retirement and savings.

By this time, I'm thinking that it might be good for a change.  Bye to California, I'll try Austin for a while.  So I moved, only to find out that this is a place with a highly inflated sense of self-importance and where damn little real engineering work is done.  I've never experienced such a hard time finding work.  The rates are 1/3 of what I was earning before the crash, because pay rates here are fixed by the three or four large companies in the area who are in collusion to drive down prices and wages… and this happens because the justice department is all on the take and doesn't give a fuck about serving anyone or anything but themselves and their rich buddies.

To survive, I was forced to cannibalize my savings and retirement, the last of which was a small IRA.  This came in a year with mammoth expenses and not a single dollar of income.  I filed no return that year thinking that because I didn't have any income there was no need.  The sleazy government decided that they disagreed.  But they didn't notify me in time for me to launch a legal objection so when I attempted to get a protest filed with the court I was told I was no longer entitled to due process because the time to file ran out.  Bend over for another $10,000 helping of justice.

So now we come to the present.  After my experience with the CPA world, following the business crash I swore that I'd never enter another accountant's office again.  But here I am with a new marriage and a boatload of undocumented income, not to mention an expensive new business asset, a piano, which I had no idea how to handle.  After considerable thought I decided that it would be irresponsible NOT to get professional help; a very big mistake.

When we received the forms back I was very optimistic that they were in order.  I had taken all of the years information to Bill Ross, and he came back with results very similar to what I was expecting.  Except that he had neglected to include the contents of Sheryl's unreported income; $12,700 worth of it. To make matters worse, Ross knew all along this was missing and I didn't have a clue until he pointed it out in the middle of the audit.  By that time it had become brutally evident that he was representing himself and not me.

This left me stuck in the middle of this disaster trying to defend transactions that have no relationship to anything tax-related (at least the tax-related transactions were poorly documented).  Things I never knew anything about and things my wife had no clue would ever matter to anyone.  The end result is… well, just look around.

I remember reading about the stock market crash before the "great" depression and how there were wealthy bankers and businessmen jumping out of windows when they realized they screwed up and lost everything.  Isn't it ironic how far we've come in 60 years in this country that they now know how to fix that little economic problem; they just steal from the middle class (who doesn't have any say in it, elections are a joke) to cover their asses and it's "business-as-usual".  Now when the wealthy fuck up, the poor get to die for the mistakes… isn't that a clever, tidy solution.

As government agencies go, the FAA is often justifiably referred to as a tombstone agency, though they are hardly alone.  The recent presidential puppet GW Bush and his cronies in their eight years certainly reinforced for all of us that this criticism rings equally true for all of the government.  Nothing changes unless there is a body count (unless it is in the interest of the wealthy sows at the government trough).  In a government full of hypocrites from top to bottom, life is as cheap as their lies and their self-serving laws.

I know I'm hardly the first one to decide I have had all I can stand.  It has always been a myth that people have stopped dying for their freedom in this country, and it isn't limited to the blacks, and poor immigrants.  I know there have been countless before me and there are sure to be as many after.  But I also know that by not adding my body to the count, I insure nothing will change.  I choose to not keep looking over my shoulder at "big brother" while he strips my carcass, I choose not to ignore what is going on all around me, I choose not to pretend that business as usual won't continue; I have just had enough.

I can only hope that the numbers quickly get too big to be white washed and ignored that the American zombies wake up and revolt; it will take nothing less.  I would only hope that by striking a nerve that stimulates the inevitable double standard, knee-jerk government reaction that results in more stupid draconian restrictions people wake up and begin to see the pompous political thugs and their mindless minions for what they are.  Sadly, though I spent my entire life trying to believe it wasn't so, but violence not only is the answer, it is the only answer.  The cruel joke is that the really big chunks of shit at the top have known this all along and have been laughing, at and using this awareness against, fools like me all along.

I saw it written once that the definition of insanity is repeating the same process over and over and expecting the outcome to suddenly be different.  I am finally ready to stop this insanity.  Well, Mr. Big Brother IRS man, let's try something different; take my pound of flesh and sleep well.




The communist creed: From each according to his ability, to each according to his need.

The capitalist creed: From each according to his gullibility, to each according to his greed.




Joe Stack (1956-2010)

02/18/2010
Kevin Smith was in San Francisco last week giving a geek address at Macworld. Well, on his way home to Los Angeles he was kicked off a Southwest flight for being too fat. This led to a super awesome Twitter rant. This morning, Southwest apologized to the director by stating its policy; a non-apology if you ask me.
A local graphic artist named Arin Fishkin designed the ticket for Burning Man 2010. This is a pretty big deal when you consider that each ticket is equivalent to a $200 to $300 bill.  Some of the security features include embossing and two separate foil stamps, one which is holographic. Other features are so secret that the event promoters asked him her not to include them in his her blog. The ticket is a work of art in itself that should get you excited about the event. Check it out.
A San Francisco Mission District local is the founder of Ambient Industries, a company that recently released an awesome iPhone application called Flook. Flook is described on their website as a location browser which allows you to bookmark and tag the real world around you. It has a cool user interface too! From the founder:
Flook is not about finding the nearest McDonalds but rather about discovering that this fire hydrant is painted gold each year to commemorate its part in saving the Mission from fire after the 1906 earthquake (http://www.flook.it/community/Jane/50524) or that there's an Edwardian Ball on next weekend (http://www.flook.it/community/smiling-robot/71128).
It is pretty cool to have "an extra layer of information to the world around you." You should definitely check it out when you get a chance.
My friend Larry found this bit of comedy on a cork board somewhere in Hawaii. I personally have no judgment on vegans, but this is just funny. Keep being AWESOME people!
Hubba Hideout is a legendary San Francisco skate spot in the financial district that has been glamorized in video games like EA's Skate. It was very popular back in the 90's but was made "unskateable" with the use of anti-skate studs put in place by the Embarcadero Center maintenance crews circa late 2001. Guerrilla skaters have since removed the anti-skate studs from the bottom stairs to make it partially skateable again.
I watched some skaters rip this thing up at lunch time back in the summer of 2001, before the studs were put in place. My office was just a half block away. Below is a great video documentary of the spot made back in 2001, when I saw some great lunch time sessions.
Apparently, the hundreds (and sometimes thousands) of seals at Fisherman's Wharf have dwindled to just a handful since Thanksgiving.
According to the article, the seals magically appeared after the Loma Prieta Eartquake in 1989 and have been a part of Fisherman's Wharf for over 20 years. Now they are gone. Scientists think they are searching for food. Is this an ominous sign of another large earthquake on the horizon?
It all seems a bit mysterious.
Umar Farouk Abdulmutallab, has been deemed the "testicle bomber" or "ball bomber" due to this Reuters article quote:
…the device consisted of a six-inch (15.25 cm) packet of powder and a syringe containing a liquid, which were sewn into the suspect's underwear so they would be near his testicles and unlikely to be detected.
I mean this guy literally tried to blow his balls off! "Goodness gracious, great balls of fire!!!"
You would think that terrorists around the world know that after United 93 if you try and act a fool on a plane, your fellow passengers will beat your ass first and ask questions later. Especially American passengers. We have a lot of pent up rage in this country and peeps are just looking for an excuse to kick some ass, and to do it with a legitimate reason is just icing on the proverbial cake.
First, Richard Reid, the shoe bomber, tried to light his kicks on fire just a few months after 9/11 and got his ass beat which is termed "subdued" in news reports. Subdued means you got your ass beat. In 2007, a passenger tried to open a plane's cockpit door and he got his ass beat and duct taped to a seat. But these incidents are ancient history, here are some that happened just this year. In January, a guy yelled "I've got a bomb" as a plane was landing at LAX and got his ass beat before the plane even touched the ground. In April, another guy tried to open a cockpit door on a flight to Israel (!) and he got his ass beat. In August, this guy punched a woman in the face then took off all his clothes on a flight from Oakland to (not returning from) Las Vegas. Needless to say he got his ass beat.
Basically, if you even remotely look like you are going to act up on a plane you are getting your ass beat, Fight Club style.
A decomposing body was found in Golden Gate Park "just a few feet from the sidewalk" near the intersection of Fulton Street and 8th Avenue (see map above). The body of a woman was found by a City Parks and Rec gardener who was a bit shaken up by his discovery. Crazy that someone would dump a body in the heart of the city!
This guy in Uruguay named Fede Alvarez posted this 4 minute and 48 second video on YouTube called Ataque de Panico (Panic Attack). He claims that he made this short film with only $300. Within three days of posting it onto YouTube he was getting calls from Hollywood studios and eventually signed a $30 million film deal sponsored by Sam Raimi, the director of Spiderman. The moral of the story: Don't panic. If you are good enough at what you do, success will find you.
San Francisco bought Treasure Island from the U.S. government for a $55 million guaranteed payment. However, the deal could be worth as much as $105 million should the development of the island prove to be highly profitable for the city.
Hank Leukart, the editor of the online travel magazine Without Baggage, just posted a story showcasing several San Francisco day trips that he did with his 61-year-old mom. A total badass! The day trips included in his guide are to Muir Woods, Point Reyes Lighthouse (pictured), Año Nuevo State Reserve, and Santa Cruz.
It is definitely worth checking out his website prior to planning your next day trip out of San Francisco, whether you are taking your mom or not. Come to think of it, it would be wise to check out his site prior to planning your next vacation.
Weezer's tour bus skidded off road and crashed in upstate New York today with Rivers Cuomo and his assistant suffering minor injuries. Rivers' wife and 2-year-old daughter were on the bus but were not injured.
Sarah Palin supporters were asked in detail what issues or policies they support for her 2012 presidential bid at a recent book signing. Wow! My favorite comment: "The state that she did govern was right across the street from Russia" at around the 4:50 mark. "We just want to meet Sarah Palin!"
Great blog post on the economics of pinball and how the Williams company made sure that you lost as many quarters as possible to their pinball machines between 1986 and 1992. Via BoingBoing.